The £10.5 million new Advanced Technologies Centre at Tameside College in Greater Manchester, benefits from a radical external screening solution, courtesy of Levolux.
Situated to the east of Manchester, on the college's Beaufort Road campus, the new five-storey building is central to the college's plan to develop courses in science, technology, engineering and maths (STEM).
The design for the building was handled by architects, IBI Group and includes a host of eye-catching features. The most visible of these is the external screening solution which effectively wraps around the building.
Levolux, a world-leading solar shading and screening specialist, was able to draw upon its unrivalled experience of delivering similar solutions, to meet challenging project requirements. The custom solution comprises perforated aluminium panels, secured against an inclined supporting structure, with integral horizontal walkways.
The screening structure was not only required to create a striking architectural feature, but also performs as an effective solar veil. This is a critical element of the building envelope, particularly on exposed elevations, as it effectively curbs the effect of solar heat gain. As a form of passive cooling, the solar veil helps to create a comfortable internal environment for students and teachers.
To achieve the desired degree of openness, Levolux devised an arrangement of perforated aluminium panels, with a unique pattern of different sized circular perforations. Each panel, which typically measures 3.8 metres in height by up to 1.2 metres in width, is formed from 3mm thick sheet aluminium.
The panels are strengthened by means of returns along each edge, allowing them to be secured to low profile, 'T'-shaped vertical aluminium carriers. This ensures they can withstand high winds or snow loads.
The screening structure is inclined at an angle of 1 degree, allowing it to lean away from the building's glazed facade, with a maximum projection of 1.8 metres at its peak. The solar veil extends the full length of the building, 61 metres in total, with a sloping top edge that increases in height from 12 metres at its lowest point up to almost 30 metres above ground level.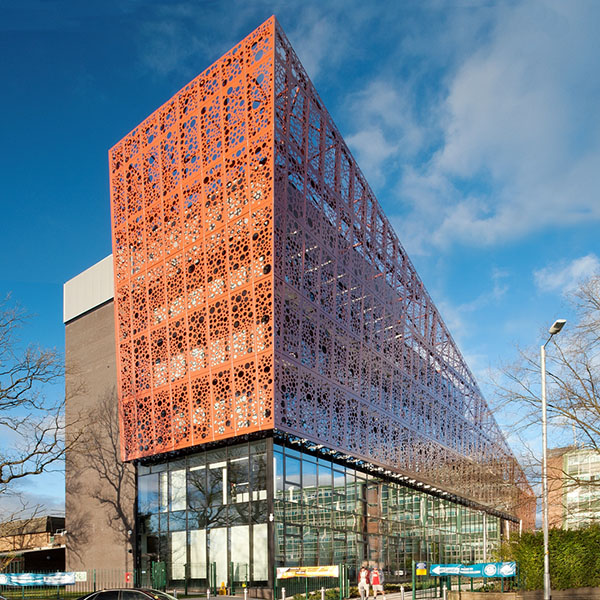 To facilitate regular maintenance and cleaning of the façade, the supporting structure incorporates a series of perforated walkways on four levels. Formed from galvanised steel, the walkways, which are secured to horizontal aluminium support arms, increase in width at each level, from 770mm at low level up to 1250mm for the upper level. Complete with aluminium handrails, the walkways provide a safe and efficient means of accessing the façade.
Levolux's market-leading Triniti® curtain walling bracket was specified, to deliver the optimum structural performance, while achieving a thermally broken building envelope. The first-fix brackets secure the screening structure to the building, without compromising the thermal performance of the envelope. This was an important factor for the architect, as they set their sights on achieving a BREEAM 'excellent' rating.
Now complete, the Advanced Technologies Centre at Tameside College creates an 'iconic' structure within its Beaufort Road campus. This is largely attributable to Levolux's perforated screening solution, which is finished in a durable, warm copper brown matt powder coating.
The new building, with its specialist STEM facilities, including computer coding and forensic laboratories, is now ideally equipped to support the UK's increasing demand for higher level skills in the engineering sector.
For more information email Levolux on info@levolux.com or please visit www.levolux.com