Persimmon has replaced Barratt as the housebuilder with the largest number of new homes in its planning pipeline.
Glenigan's research on the number of units included in detailed planning applications for private new-build homes made during 2017 puts Persimmon on top after the company applied to build 19,681 homes. That is a rise of 19% on the 16,488 units in Persimmon's pipeline in 2016.
In contrast, the number of new homes proposed by Barratt dropped back by 2% to 16,454.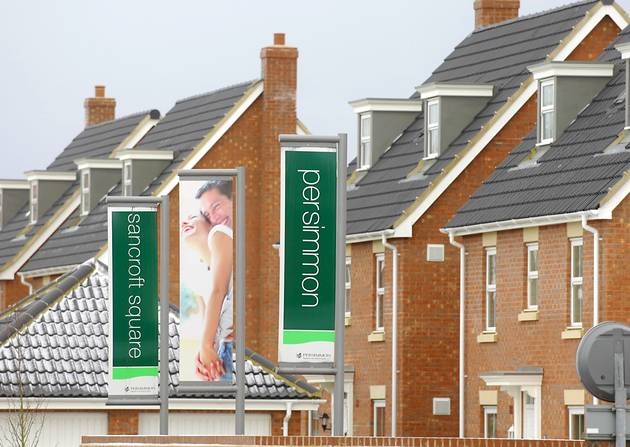 Glenigan's economics director Allan Wilen said: "Barratt spent heavily in the land market during 2017, which would explain the drop off in units in their planning pipeline.
"Typically, developing land through the planning process can be cheaper.
"Although we expect a small decline in the value of underlying private residential starts in 2018, many other housebuilders continue to expand their planning pipeline and this research bears this out."
Glenigan's research began in 2004 and Barratt had applied to build more homes through the planning system than any other housebuilder from that year right up to 2013, when Taylor Wimpey took over at the top.
Taylor Wimpey held onto top spot for two years before being replaced by Persimmon.
Barratt returned to first place in 2016 only to be again toppled last year by Persimmon, which also submitted more planning applications – 174 – than any other housebuilders.
Persimmon, Barratt and third-placed Taylor Wimpey all submitted more than 100 planning applications in 2017 and the bigger housebuilders are also, perhaps unsurprisingly, planning larger developments.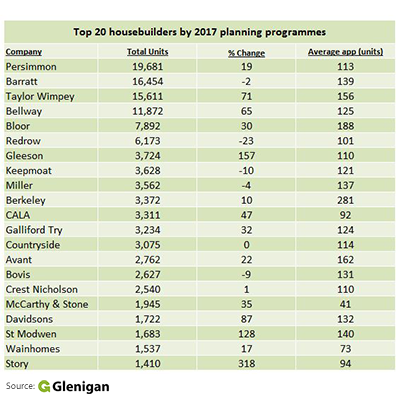 The average detailed planning application for private new-build homes made in 2017 contained 91 units – up from 84 in 2016. At the 20 biggest housebuilders, the median application proposed is 124 units.
The average application submitted by Berkeley contained 281 homes and the average proposed development featured 100 or more units at 16 of the top 20 housebuilders.
CALA planned schemes of 92 units, while McCarthy & Stone, which builds out smaller retirement schemes, proposed schemes of just 41 units.
Houses remain the dominant type of home in the development pipeline at most of the top 20 housebuilders.
In Persimmon's pipeline, 94% of proposed units are some form of house. At the other two leading housebuilders, Barratt and Taylor Wimpey, houses comprise 93% and 92% of the planning pipeline respectively.
At Bellway, 87% of proposed new homes are houses and the balance apartments, while at Crest Nicholson 74% of units in permissions ought in 2017 were houses.
The only other companies in the top 20 to fall below the 90% mark for houses are London-centric Berkeley where 70% of the planning pipeline is for flats, and retirement specialist McCarthy & Stone.
While the near-term outlook for private residential work is not bright amidst economic uncertainty, most housebuilders remain increasingly active on the planning front.