ACCORDING TO HOME OFFICE FIGURES, SMOKE ACCOUNTS FOR ALMOST 80% OF ALL FIRE RELATED DEATHS IN THE UK.
It's not only the inhalation of toxic smoke and hot gases, caused by the burning of furniture and building materials that create the problem, but also the reduced levels of oxygen that reach the blood stream.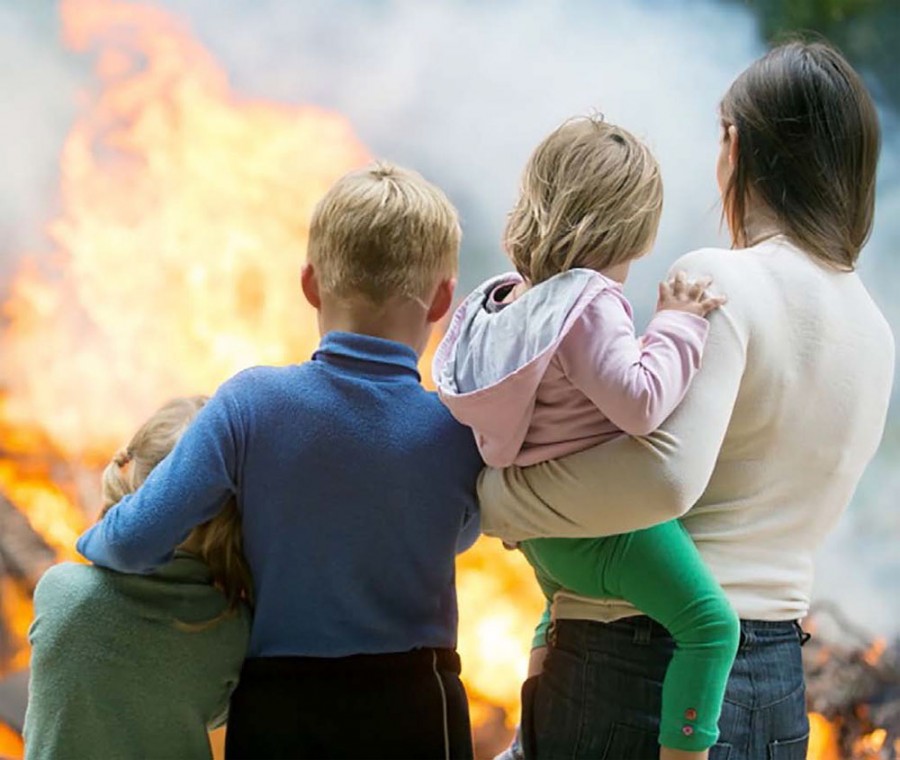 Oxygen makes up around 21% of ambient air, but if it falls by only 4%, both judgement and co-ordination are impaired, while a further 8% drop results in loss of consciousness. At an oxygen density of just 6%, this usually causes respiratory and cardiac arrest and an ultimately death. To increase the chances of surviving a building fire, particularly in high-rise residential blocks, occupants must have a safe route of escape. Smoke control systems remove smoke from a building and keep escape routes, such as stairs and corridors, free from smoke. This not only makes it easier to evacuate a building, but also protects occupants from the potentially fatal effects of smoke.
The importance of escaping a fire quickly cannot be underestimated and thankfully, Building Regulations Approved Document B demands that smoke control and ventilation systems are mandatory in residential buildings over three-storeys high.
Smoke ventilation systems also have the additional benefit of increasing the effectiveness and efficiency of the fire services, attending an incident. As a long-standing member of the Smoke Control Association SE Controls is committed to any initiative that can help save lives and improves fire safety standards across the industry.
The Smoke Control Association state that a well-designed smoke control system can save lives and help protect property as it will:
Keep escape and access routes free from smoke
Facilitate fire-fighting operations
Delay or prevent flashover, reducing the risk of the fire developing further
Protect the contents of the building
Reduce the risk of damage to the building
One system alone is not enough
Sprinklers have featured heavily in media reports following the tragic events at Grenfell Tower and they are an effective safety solution that undoubtedly helps to save lives. However, the reality is that no one life safety system on its own can offer an acceptable level of protection against the dangers of fire and smoke.
The right combination of systems however, designed and installed to the latest standards, can make the difference between life and death.
Legislation such as BS7346-8 ensures that smoke ventilation systems are maintained regularly so that they operate reliably. Testing products in a real life controlled fire environment to EN12101-2 means that smoke ventilation products will work when needed.
Simon North, Service & Maintenance Division Manager with SE Controls, commented: "Since the Grenfell Tower fire, there has been a significant increase in demand from building owners and landlords who want to ensure their systems are safe and fully functioning. We have also experienced a 25-30% increase in enquiries for our professional smoke control maintenance service. We can now attend these sites and ensure that their smoke ventilation system is working correctly and is compliant."
He added: "As an industry, we must not allow the situation to occur again where it takes such a tragic loss of life to make those responsible for their tenant's safety understand the importance of smoke ventilation in a building, along with all other life safety systems in place"
I More information on smoke control systems and how they can protect lives and buildings can be obtained by emailing sales@secontrols.com or calling SE Controls on: +44 (0)1543 443060. SE Controls has NBS Clauses and BIM Objects available on NBS Plus, BIM Object and at www.secontrols.com.