Vero Air has become a complete bathroom range while retaining its strong, design-focused identity.

The new Vero Air bathtubs impress with reduced edges and striking linear charm. State-of-the-art technology in Duravit's manufacturing processes allow for this extremely precise design.
The free-standing Vero Air bathtub is presented as a perfect rectangle, stylishly reflecting the design of the range. Shown with the Vero Air vanity unit with Vero Air double washbasin and Vero tall-cabinets.
Furniture finish: Oak Cashmere (real-wood veneer)
Faucet: C.1. by Kurt Merki Jr.
The freestanding Vero Air bath tub is presented as a perfect rectangle, stylishly reflecting the design of the range. The striking design of the Vero Air bathtub is a logical continuation of the Vero design language.
By optimising the radii and wall thicknesses (55 mm), the iconic washbasin design is reflected in the acrylic bathtub's monolithic form, available in four sizes, as a freestanding or built-in version (from 1700x700 to 1900x900mm. Sober, pure, masterful, the back-to-wall version (1800x800mm) of the Vero Air bathtub also has a majestic effect.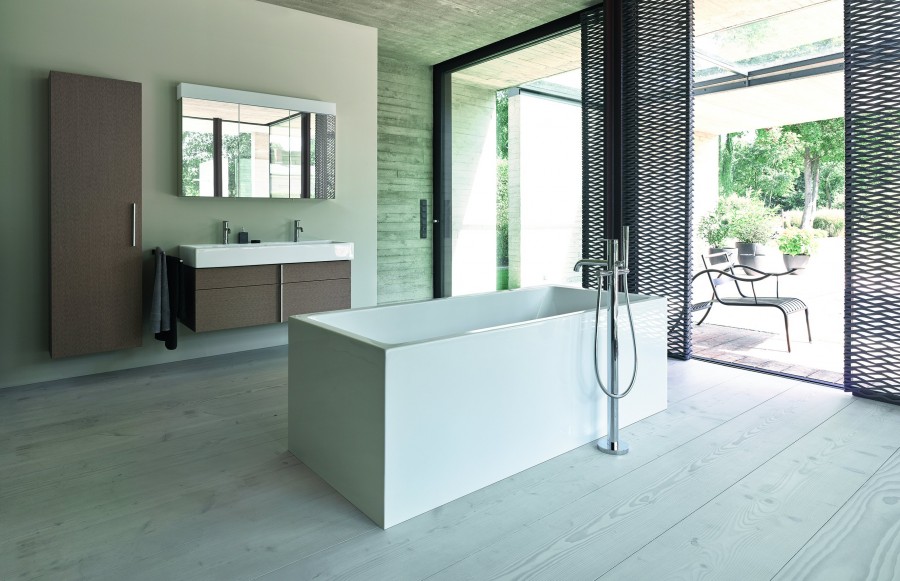 All Vero Air bathtubs are optionally available with the new Air-System, fitted with air jets that are almost invisibly integrated. On request, they are also available with LED colour light and sound.
A special extra feature is the new, discreetly-integrated air whirl system with Piezo button. This special push button contains no moveable mechanical parts and is as a result extremely low-maintenance.
Vero by Duravit – a success story
2001 Introduction of Vero stand-alone washbasins
(60cm) 2004 Addition of new dimensions to the range
(50, 80 and 100cm)
2006 After Vero's initial success, Duravit added new models to the range, including washbasins and above-counter basins.
2007 Vero collection expands to include ceramic toilets and bidets.
2010 Vero Black is introduced: washbasins, toilets and bidets in black create accents in the bathroom.
2014 The Vero furniture range by Kurt Merki Jr.
transforms Vero into a complete bathroom collection.
2017 The new Vero Air and DuraSquare ranges echo the striking design language of Vero and present an even more slender and precise look.
2017 Your entire bathroom from a single source: the new C.1 tap fitting range by Kurt Merki Jr. harmonises perfectly with Vero Air and DuraSquare in both form and function.
Duravit AG Founded in 1817 in Hornberg in the Black Forest, Duravit AG is today a leading international manufacturer of designer bathrooms. The company operates in more than 130 countries worldwide and stands for innovations in the field of good design, the intelligent use of technology and top quality. In cooperation with high-profile international designers, such as Philippe Starck and EOOS, the company develops comfortable bathrooms that really enhance quality of life for users on a sustained basis. Duravit's product portfolio comprises sanitary ceramics, bathroom furniture, baths and shower trays, wellness systems, shower-toilets, faucets and accessories.
For more information contact Esprit Media Ltd on Tel: 01428 788098 or Email: info@espritpr.com