Gatic Civil Drainage, part of Alumasc Water Management Solutions (AWMS), has added Filcoten – its innovative surface water channel drainage – to the most recent update of XP Solutions' MicroDrainage 2017. This follows the inclusion of Gatic's highly specified Slotdrain channel drainage to the software last year.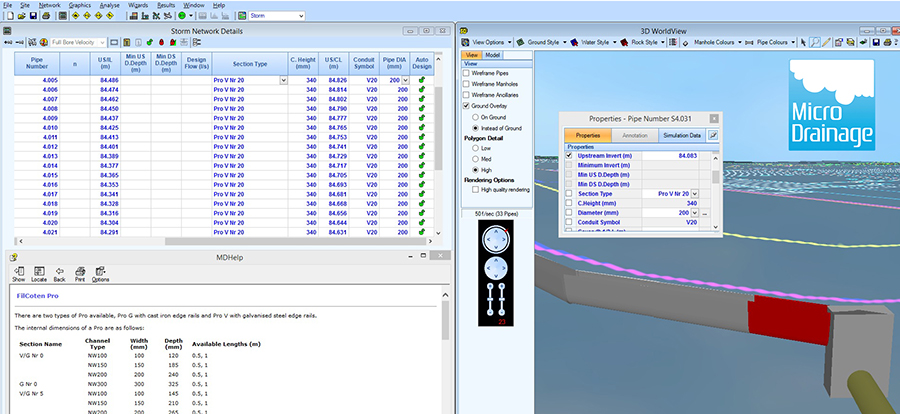 MicroDrainage is a well-recognised tool for civil engineers working on surface water and external drainage calculations. It is the industry standard software to detail and design fully integrated storm water and foul water drainage systems. Users of MicroDrainage benefit from a user-friendly interface, interaction with third party CAD software, and an auto-design and editing facility.
The 2017 update has been developed to give more functionality to even more users than ever before. Gatic Sales Director Martin Neale comments: "We're extremely pleased that the latest update now includes our innovative ranges of surface water drainage products - it's a significant development for our business. MicroDrainage is the leading industry software that makes it easy to manage a cost catalogue of drainage products. It's perfect for running cost variations that help create work programmes and enable civil engineers to cost engineer both efficiently and effectively. Its ability to automatically calculate excavation and refill volumes makes it a powerful tool for producing quantities and schedules too."
Paul Ramshaw, VP President of XP Solutions EMEA adds: "We are pleased to add Gatic's Filcoten channels to the MicroDrainage library of market-leading stormwater products. By being able to specify specific manufacturer products, users can design and simulate drainage networks far more accurately – ensuring MicroDrainage's status as the industry-standard drainage design software for civil engineers, planning departments and house-builders alike."
Gatic is a global leader of engineered access covers and surface water drainage. It manufactures the widest range of slot and channel drains, backed by the fastest technical response and the most extensive support.
For more information, call 01304 203 545 or visit www.gatic.com.