Kalzip® are proud to announce that their training courses have been formally recognised as complying with Basic Competency Programme (BCP) standards for Roof Sheeting & Cladding. The company is now recognised as being a BCP approved manufacturer of this industry-wide initiative that is driven by the Roofing Industry Alliance (RIA) in conjunction with the National Federation of Roofing Contractors (NFRC).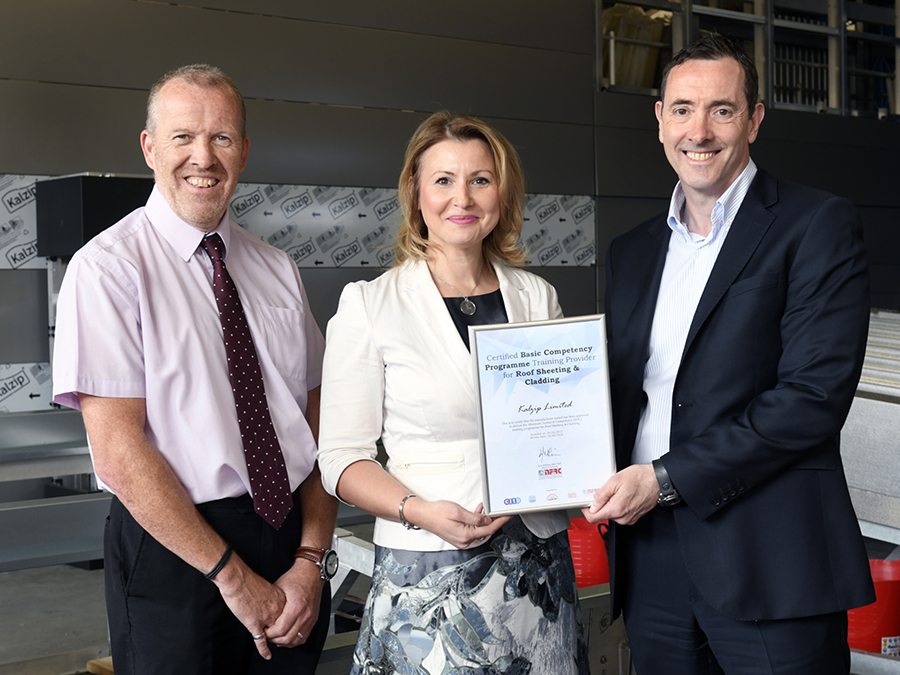 The prime objective of the BCP is to support unqualified roofing operatives by raising their personal standards of knowledge, skills and competency in the workplace while at the same time providing them with a route to becoming more highly trained, better equipped and further educated by attaining National Vocation Qualifications (NVQ).
Endorsed by the Construction Skills Certification Scheme (CSCS), Construction Products Association (CPA) and the Construction Industry Training Board (CITB), the BCP scheme is formalising manufacturer training and linking it to NVQ attainment. In addition to advancing the skills and abilities of the roofing operatives themselves, this nationwide development is also of benefit to Kalzip, their Teamkal contractors, architects and clients who can be reassured that the company's highly durable and maintenance-free standing seam systems will always be installed to extremely high standards.
Adrian Whitefoot, Kalzip's Technical, Training & Site Services Manager says, "Kalzip is the world-leading standing seam system with over 100 million square metres installed since its introduction in 1968. Whilst many innovative product developments have taken place since then, the company has consistently recognised the importance of high quality training and been providing courses for the employees of our Teamkal network of contractors for many years.
"As a brand leader, Kalzip's philosophy has always recognised the benefits of training and the need for having a competent, skilled workforce right across the Teamkal contractor network. The ongoing support and training we provide enables us to ensure that all installations of Kalzip systems are carried out to best practice and the highest possible standards.
"Becoming formally recognised as an accredited BCP manufacturer for sheeting and cladding systems will undoubtedly encourage us to further strengthen our investment and commitment to best practice and the provision of specialist training programmes through a nationally recognised skills certification scheme. Furthermore, this third party endorsement by the NFRC will give our customers additional assurance that our approved contractors have the suitably skilled operatives that are necessary to install the Kalzip standing seam roofing and cladding system."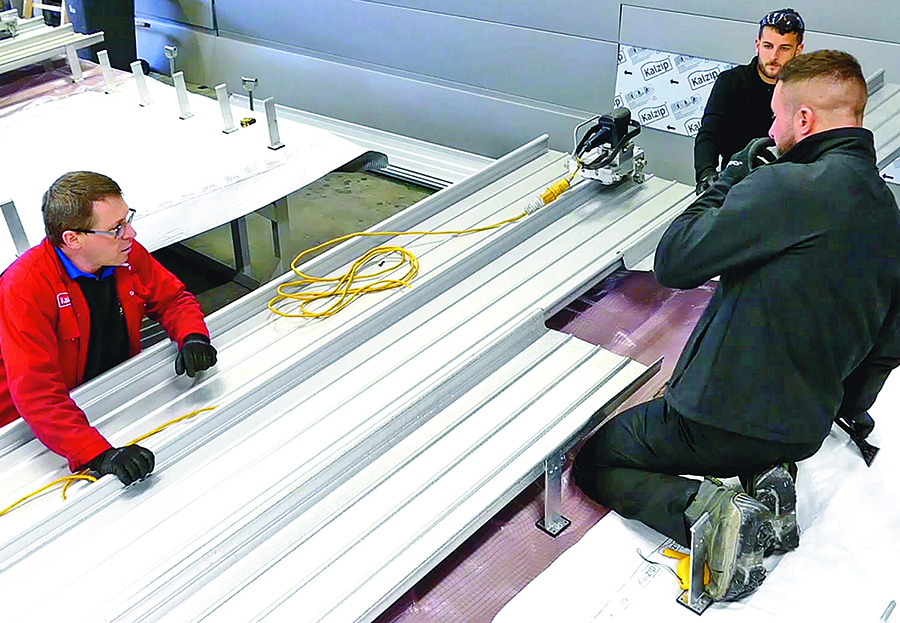 Once a roofing operative has attended a Kalzip 4-day General Operator Course and passed the BCP End Test, they're awarded a certificate, and on successfully completing a CITB Health, Safety & Environment (HSE) Test, they automatically become eligible to apply for a 'Red' Experienced Worker CSCS Card - which is valid for a 3 year period. Operatives then have the opportunity of further upskilling themselves and climbing the qualification ladder by studying towards a Level 2 NVQ which entitles them to apply for a 'Blue' Skilled Worker CSCS Card.
Courses scheduled in Kalzip's ongoing Training Programme are generally held at the Haydock Training Centre, but they can also be arranged at other suitable venues if required. Importantly, as a BCP-accredited training provider, Kalzip's General Operator, Estimator and Designer courses are all eligible for CITB grant assistance.
Livia Williams, the NFRC's Head of Training says, "The sheeting, cladding and rainscreen markets are high priority sectors facing massive challenges in relation to workforce development. This is due in part to the limited availability of specialist training provisions that roofing contractors can use to upskill and qualify their workers. The NFRC is delighted that Kalzip is actively supporting their installers by offering high quality training courses that are recognised as complying with Basic Competency Programme (BCP) standards, thereby enabling attendees to increase their skills and attain a relevant formal qualification which leads to the acquisition of CSCS cards."