Freefoam, a leading manufacturer of a wide range of innovative products for the building industry in UK, Ireland and Mainland Europe, announce the launch of a brand new colour roofline visualiser – an online tool to help choose the colour of fascia, soffit and guttering that is right for any new build or refurbishment project.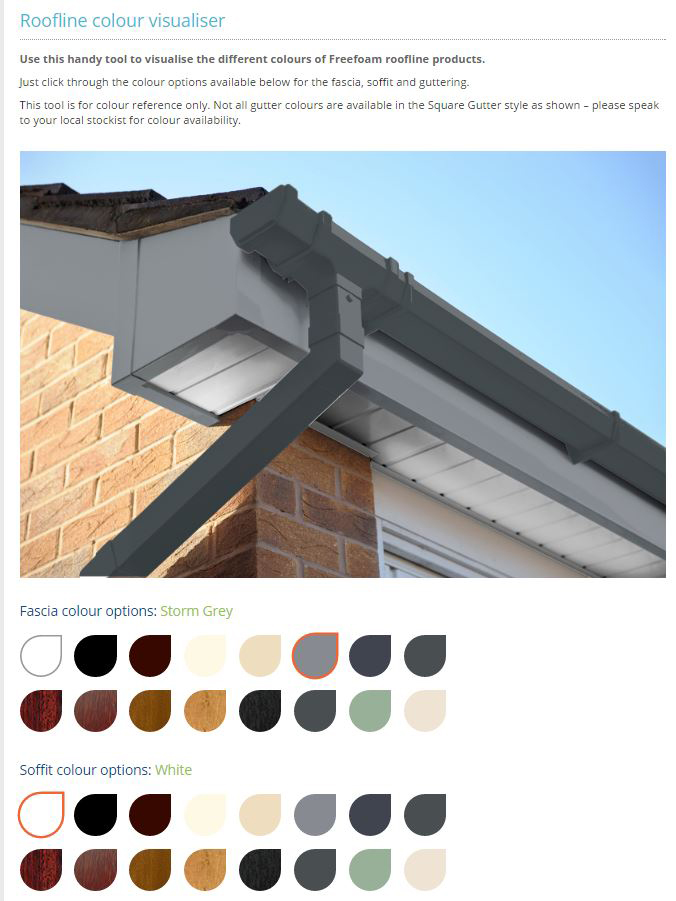 A clear image of a roofline installation enables users to simply select from a colour swatch and get an instant representation of each colour on every element - fascia, soffit and guttering. With a wide range of eight solid colours and a stunning choice of eight woodgrain finishes Freefoam now give you the ability to bring colour to life before your eyes.
Whilst colour has become an integral part of many development projects clients can still be conservative in their choice. It's not always easy to visualise how a finished product will look. This tool offers the ability to experiment with any number of different colour options allowing you and your client to really push the boundaries and make an informed decision without any of the risk.
Colin St John, Freefoam Commercial Director, explained "Our view is that colour is here to stay. As specialist colour roofline manufacturers we want to make choosing colour fascia, soffit and guttering easy and risk free. With the launch of this online visualiser we have put colour choice at the fingertips of specifiers and housebuilders. This, coupled with our manufacturing capability to produce colour with very short lead times, makes colour roofline a straight forward realistic option"
Freefoam is the colour specialist. Recognising the growing importance of colour for architects, specifiers, and house developers Freefoam seized the opportunity 15 years ago and generated its patented ColormaxTM technology. A careful selection of pigments for the colour skin are simultaneously co-extruded with the white foam core to produce a hard wearing long lasting finish. The Freefoam colour range includes 10mm & 18mm fascia boards and a range of soffit boards in a choice of styles, along with all the necessary colour matched accessories, trims and fixings.