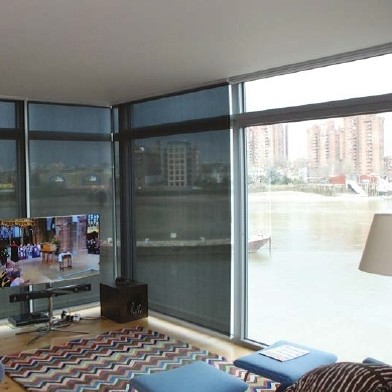 More sustainable, more performance, more discrete, the latest developments in the Mermet Screen Nature glass fibre based screen fabric set new standards for solar shading.

With its main component (over 90%) glass fibre being made from sand and its remaining parts being practically fossil fuel free, minimum use is made of diminishing resource. PVC free, Polyester free construction makes the fabric safe in use, both as giving off no noxious gases, as attested to by Greenguard & Oeko-Tex 100, and with its exceptional fire rating (burning point of fibre glass anyone?).

But sustainability box ticking tells less than half the story. Being of mainly fibre glass yarn, the fabric construction is very thin, this makes the diameter of the fabric when rolled up onto the top roller still very small, allowing it to be hidden within very small reveals or head-boxes, practically un-noticeable when not in use.

So not damaging in its production, discrete when not in use is all very well, but only if it makes a decent solar shade. Fortunately, well by design actually:
Reduces Solar gain with its highly reflective metallised face to the glass over 70% Solar Reflectance achieved.
Glare removed, light control significantly improved with light transmittance values down to 7%, yet external through vision still good (see attached photograph showing River Thames view through Ultimetal).
Insulation of the room improved; with the blinds lowered at night the Low-E attributes of the metallised face significantly reduce Thermal heat loss through the glazing.
Finally, with a choice from seven colours, an aesthetically sympathetic installation should be assured. Mermet Ultimetal window shading fabric, looks good, does you good.