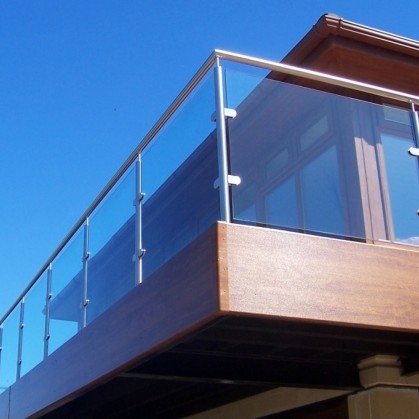 F H Brundle is the UK's largest stockist of wrought iron components, welded wire mesh and expanded and perforated metal.

Pro-Railing is a stylish, durable and cost effective stainless handrail component system from FH Brundle designed with ease of installation in mind.

The comprehensive range of components allows you to specify and install without the need for fabrication and maximises on-site flexibility for those changes that inevitably arise.

Needing only to be cut, glued or screwed, the system enables the most stylish of handrails and balustrades to be constructed quickly and effortlessly by the contractor, creating professional results every time. Specifiers can be assured that component design and range flexibility means installation by a competent installer is a straight forward process.

Pro-Railing is complimented by a range of infill solutions using glass for frameless glass balustrade and glass with glass clamps, wire rope, round bar and decorative bars. Infill panels incorporating perforated metal, wire mesh and wire rope netting and also be manufactured.

Available in stainless steel 304 for internal applications and stainless steel 316 for external applications, you can be sure Pro-Railing quality and product care will provide stunning results.

The range of pre-assembled posts is designed to cut installation times. They are available in 42.4mm and 48.3mm diameter and in stainless steel grades 304 and 316 suitable for internal and external applications.

Glass Clamps are simple to install and are offered in either a square or radiused option, providing a glazed system between uprights. Compatible with 8 to 12mm thick glass, clamps can be used over any length of installation as well as slopes and staircases.

Pro-Glass suits our various Pro-Railing systems and our Pro-Glass panels are available in both toughened and toughened laminated glass and can be purchased in standard sizes, offering "off the shelf" solutions, and in non-standard sizes complementing our stock panels and helping you create and complete any layout.