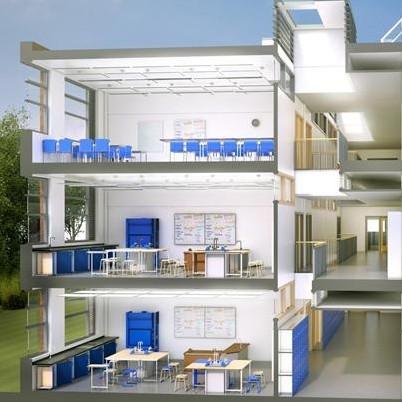 In a pilot study by the University of Salford and architects, Nightingale Associates, it was found that the classroom environment can affect a child's academic progress over a year by as much as 25%.

The year-long pilot study was carried out in seven Blackpool LEA primary schools. 34 classrooms with differing learning environments and age groups took part.

The study took two lines of enquiry. The first was to collect data from 751 pupils, such as their age, gender and performance level in maths, reading and writing at the start and end of an academic year.

The second evaluated the holistic classroom environment, taking into account different design parameters such as classroom orientation, natural light and noise, temperature and air quality. Other issues such as flexibility of space, storage facilities and organisation, as well as use of colour were evaluated.

This holistic assessment includes both classroom design and use factors to identify what constitutes an effective learning environment.

Notably, 73% of the variation in pupil performance driven at the class level can be explained by the building environment factors measured in this study.

Current findings suggest that placing an average pupil in the least effective, rather than the most effective classroom environment could affect their learning progress by as much as the average improvement across one year.

Professor Peter Barrett, School of the Built Environment, University of Salford said: "It has long been known that various aspects of the built environment impact on people in buildings, but this is the first time a holistic assessment has been made that successfully links the overall impact directly to learning rates in schools. The impact identified is in fact greater than we imagined and the Salford team is looking forward to building on these clear results."

The pilot study was commissioned by THiNK, the research and development team at Nightingale Associates. The practice will use these initial findings to inform their designs and work with schools undertaking refurbishment or build new projects to maximise their investment in the learning environment.

Design Research Lead, Caroline Paradise from Nightingale Associates, said: "We are excited by these early findings which suggest that the classroom plays an important role in pupil performance. This will support designers and educators in targeting investment in school buildings to where it will have the most impact, whether new build or refurbishment."

Through these promising findings, the study will continue for another 18 months and cover another 20 schools in different areas of the UK. This study is being funded by the Engineering and Physical Sciences Research Council(EPSRC).

The findings are in reference to a study sample of 751 pupils in Blackpool LEA. Pupil performance was measured against statistics for all the participants and all data captured maintained pupil anonymity. The study took place over one academic year, between September 2011 and June 2012.