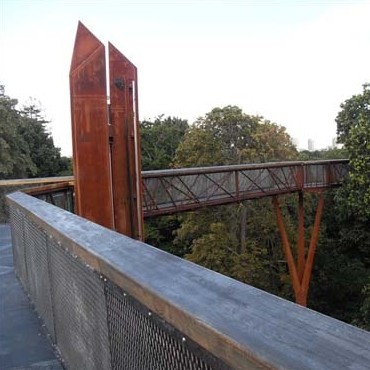 Opened in 2008 and designed by Marks Barfield Architects, creators of the London Eye, the £3m high treetop walkway has become a huge success at Kew Gardens.
At 200 metres long and 18 metres high, the walkway constructed from weathering steel and believed to be strong enough to last 500 years. The expanded steel used in the floor and sides of the walkway requires minimal maintenance.
The steel systems were supplied by F H Brundle, the UK's largest stockist of wrought iron components, gate hardware and CAME gate automation equipment. The company also holds the widest range of welded wire mesh, perforated metal and expanded metal in stock for immediate delivery.
The steel structure runs for 650ft though Capability Brown woodland at the Royal Botanic Gardens and, on a clear day, promises a bird's-eye view of the gardens and the London skyline.
To keep visual intrusion to a minimum, a suitable expanded metal pattern was selected, ensuring maximum visibility, enabling visitors to look out across the treetops or look down through the mesh grills of the walkway.
The floor of the walkway is made from perforated metal and includes an illuminated handrail.