Fresh and hot from the press are our new brochures for 2018, brought bang up to date with a fresh new and inviting look, packed to the brim with new lines and products, giving you new ideas for all your up and coming projects. With our extensive line of products ranging from Panic Hardware, Window openers, Patch fittings and even an entirely 316 stainless steel panic bar for those highly corrosive areas such as swimming pools and spas. We really are the suppliers of choice.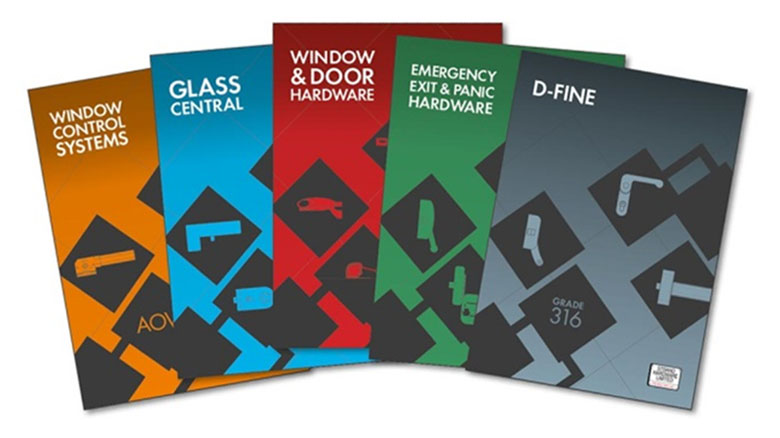 The five neatly presented brochures are as follows:
Window and Door Hardware
This brochure is packed to the hilt with products such as Finger protection devices for all those little fingers , Window openers, friction stays and even door selectors.
Emergency Exit & Panic Hardware
Whether you have Timber, aluminium or PVC doors we have the solution for you all our panic hardware is slim line to suit the narrowest of stiles in a variant of applications, Pushbar, Pushpad, Touchbar even a Motorised Touchbar all designed to work with our Specially adapted Outside access devices.
Window Control Devices
Within our new brochure we have included pre ordering forms to make things easier for you and your customers, simply fill in as much information as you have and we will specify all your Manual, Electrical and Smoke venting needs. Could not be easier than that!
Dfine
The only entirely 316 Stainless Steel panic hardware on the market, especially designed for use in high corrosive areas such as swimming pools, Spas in hotels and in coastal areas.
Glass Central
Introducing the P&M range of Glass fittings from Singapor. We supply and stock a range of fittings from patch and lock, floor springs, hinges and rails, we really do have the right products for you.
All these can be found on our web site or contact us today for your copy
www.info@strandhardware.co.uk
01922 639111