Ceiling systems by leading UK manufacturer Zentia were specified for a new £7.7 million extension to the UK and Ireland headquarters of world-leading daylight solutions provider VELUX for a trio of reasons at least.
The project was the first time Zentia's Ultima+ Finesse mineral tiles have been installed in Scotland where VELUX UK and Ireland's headquarters have been located on a 1.6-hectare site in Glenrothes, Fife, for 35 years.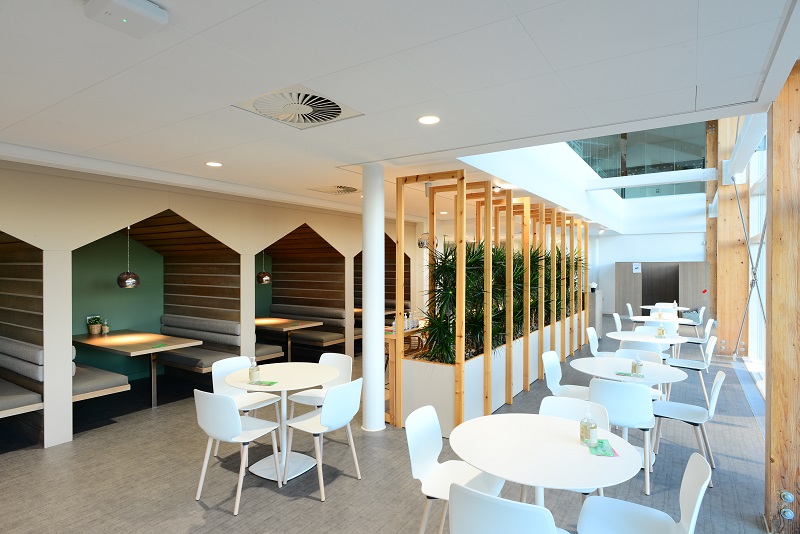 Back then it had 50 employees there. Now it has 172. The Finesse tiles were complemented by Ultima+ OP Microlook tiles, also in 600mm x 600mm format.
They were selected by regular Zentia specifiers Sinclair Watt Architects as they met the Class 1, aesthetic, fire and acoustic performance required for the 37,673ft2 two-storey building which features an engineered timber and steel structural frame.
Designed to complement the gently sloping site, the extension features full-height glazing and stone and timber cladding and showcases the latest VELUX technology. It joins the existing building via a new staff entrance, which features a green roof, aluminium guttering and timber rainscreen cladding.
Some 1,1,00m2 of the Zentia Ultima+ OP Microlook tiles were used in the ground floor offices and storerooms, while 100m2 of the Finesse tiles were used in the restaurant, kitchen and toilets. The Ultima+ range features class-leading light reflectance of 87% and Euroclass A2-s1, d0 fire classification, the OP Microlook variant with Class A sound absorption and Finesse a fully concealed, fully painted edge detail.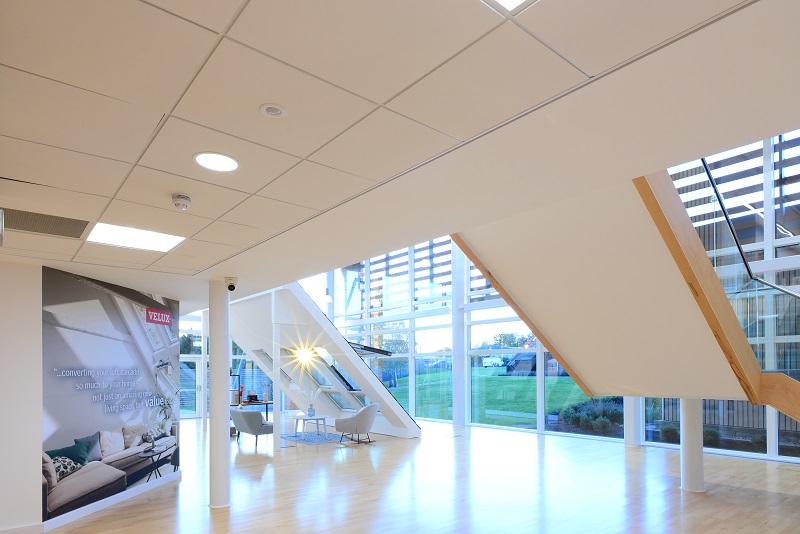 Sinclair Watt were provided with a detailed brief to provide accommodation for a new main entrance and reception area, product display hall, meeting room suite, additional office space and customer service telephone hall and ancillary accommodation. By necessity these were required to be large spaces to accommodate large numbers of employees and visitors.
The building had to achieve seven basic goals - to allow VELUX to be a good neighbour, to be simple and beautiful, to make arrival a good experience, to be a model of balanced daylight, natural ventilation, good indoor comfort and healthy materials, to apply a well-defined, high-quality structural concept, to obtain good sustainable standards with a minimum use of energy, to be visible and logical, and to create value and express the VELUX values.
Architect Iain Mitchell said: "We specified the Zentia systems as they have a good product range, good suspension systems, with good product information and good technical backup. They met all the aesthetic, fire and acoustic performances. Zentia shadow and transition trims were used so the Zentia ceilings tie in well with adjacent plasterboard walls and ceilings.
To find out more about Zentia click here.