Fusion is the latest offering from the worldwide leader in innovative flooring, Tarkett.
Bringing Tarkett's high-quality luxury vinyl and DESSO carpet tiles together, the collection showcases the use of both materials, side-by-side, to stunning and practical effect.
The Tarkett products featured within Fusion have been handpicked by the design team to demonstrate how tactility and movement, throughout commercial spaces, can be influenced by experimentation with hard and soft elements.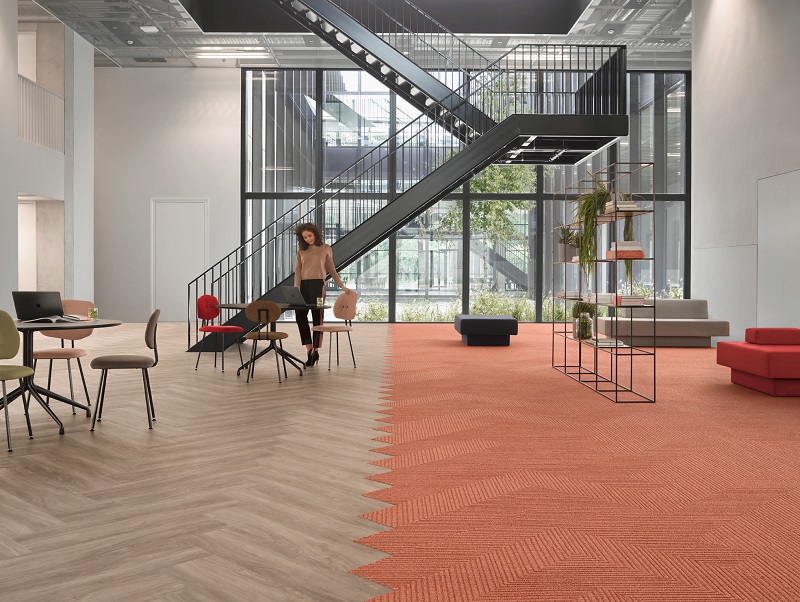 Taking Tarkett's iD Inspiration LVT collections, alongside carpet ranges including DESSO AirMaster, Jeans and Iconic, Fusion is an inspirational concept that supports specifiers in seeking out the 'best fit' product combinations for a captivating and functional end result.
"We've taken stand-out products that are individually celebrated and brought them together to create a multi-category solution that beautifully balances the best of both," comments Andrew Sloan, UK Managing Director for Tarkett.
While the combination of LVT and carpet tiles in itself is not unique, accessing the design and technical expertise to effortlessly combine the two, in the most visually impactful way, is a value-add service that makes every aspect - from design, installation and support - truly seamless.
Each product is available in a tile or plank format for maximum creative versatility, and has been chosen specifically to work together harmoniously. The resulting flooring has the absence of any visible joins.
"It's rare that design projects require just one solution. Often, designers are tasked with creating individual 'zones', which have their own distinct identities. And for enabling this, flooring offers a flexible creative medium.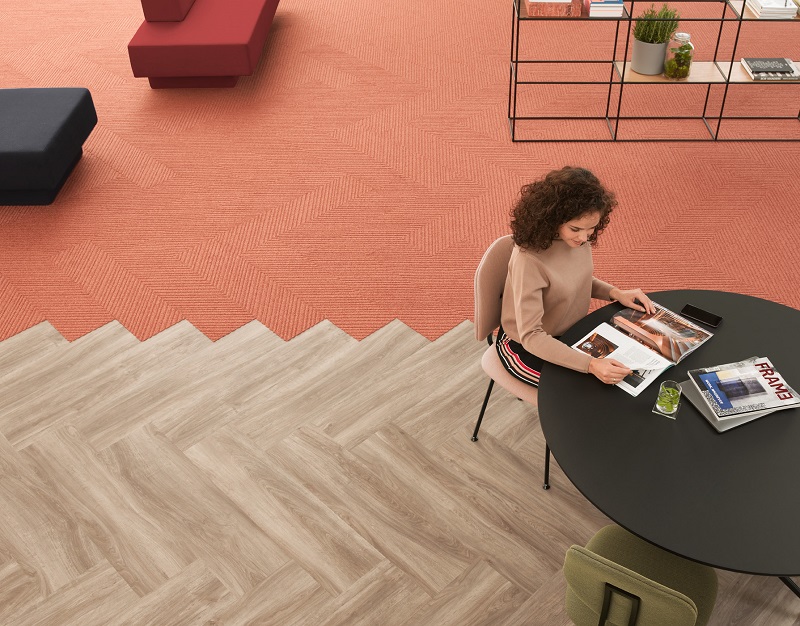 "Rather than being limited to just a handful of ranges, Fusion affords designers a variety of textures, colours and patterns, to enhance their projects."
Driven by innovation, Tarkett's products strike the balance between meeting creative aspirations, technical requirements and sustainability criteria. And the result is multi-category flooring in a variety of textures, colours and patterns to meet high aesthetical and specification demands.
The collection is supported by both products being manufactured in-house, resulting in the team having unrivalled insight and expertise across the two materials.
As a result, Tarkett's customers can also expect a dedicated point of contact across carpet and LVT, putting creativity and convenience at their fingertips.
Through a focus on Cradle to Cradle design, every product is made in a way that helps to preserve natural resources.
In addition to sustainability, Tarkett's products are also designed with health and wellbeing in mind. The iD Square and DESSO carpet tile products, which feature in the Fusion collection, provide improved sound insulation and absorption.