Customers at a café that was built as part of a plush canalside residential development in East London can enjoy a comfortable atmosphere in which to sip their flat white, thanks to a bespoke Hunter Douglas motorised Sun Control system.
The international leader in architectural building products was commissioned by London-based architects Jestico + Whiles to provide a 147m2 Sun Control System with horizontal sliding-folding shutters because it was the only company that could produce the kind of motorised shutters required.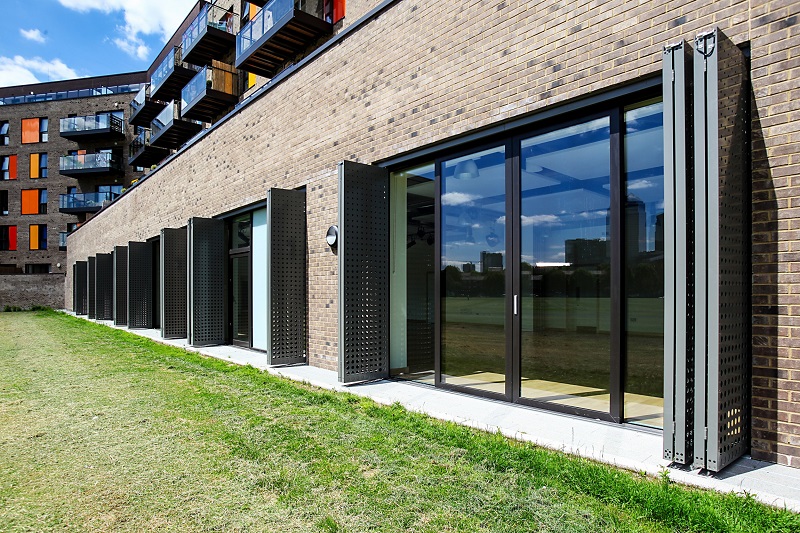 The stylish café on the ground floor of the Telford Homes Boathouse development in Cotall Lane, close to the Limehouse Cut canal, needed a smart-looking and well-designed, robust sun control system to enhance the façade while providing highly effective sun protection.
Hunter Douglas manufactured and supplied a tailor-made folding shutter system that comprises individual panels that are interconnected by hinges.
Set in a 40mm x 60mm frame and constructed using extruded aluminium profiles, the individual shutters are connected to each other to create either V or W folding elements. The advanced motorised mechanism allows the shutters to fold completely flat when they are closed.
Juliette Halliday, National Sales Manager for Hunter Douglas Architectural Products, said the design of the shutters means that they cleverly slide in the top and bottom rails, while folding or unfolding at the same time. The shutter was supplied with an infill of laser-cut aluminium sheet, which was fixed mechanically by pop rivets, providing the necessary stability and strength.
"Thanks to the incredible versatility of the motorised system, we can provide architects and designers with a huge range of sun control options for their buildings, giving them the opportunity to fulfill myriad projects," she said.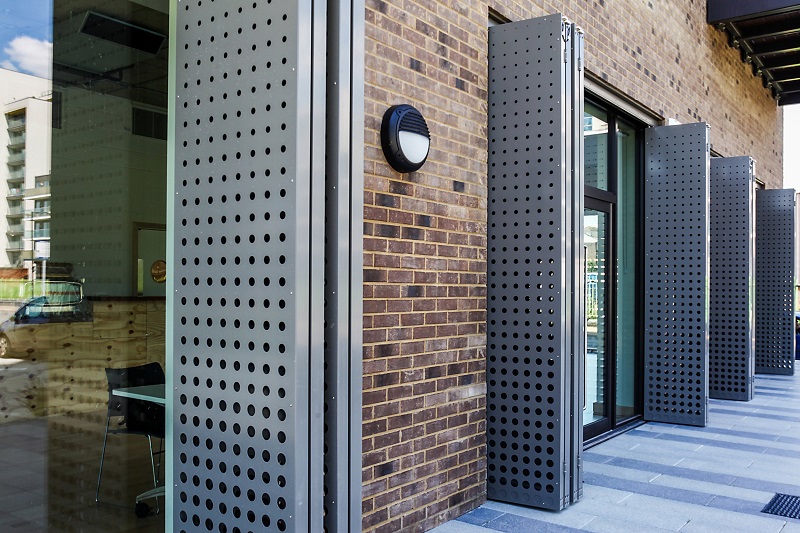 "The quality of engineering means that clients can rely on a flexible and highly effective system that enables them to quickly and easily maintain the optimum levels of light to ensure a comfortable environment.
"We worked very closely with the architects to ensure that the Sun Control element of the build – from the mechanism to the pattern – was designed and manufactured to the exact specification."
Architect Eoin Keating, of Jestico + Whiles, said: "The shutters were fitted to the windows of the café where they face onto the park and across Cotall Street to the Limehouse Cut canal. Research showed that Hunter Douglas were capable of producing the sort of motorised shutters we required."