A purpose-built university campus in the United Arab Emirates was heralded as a milestone for the country's education sector – and the high-quality design reflects its significance.
Creating an eye-catching entrance for the flagship campus of Amity University in Dubai is an innovative Hunter Douglas Architectural wood panel wall and ceiling system that spreads across the atrium.
The university, part of the Amity Education Group that provides a variety of educational programmes for more than 150,000 students worldwide, describes its Dubai campus as "more than just a space to learn".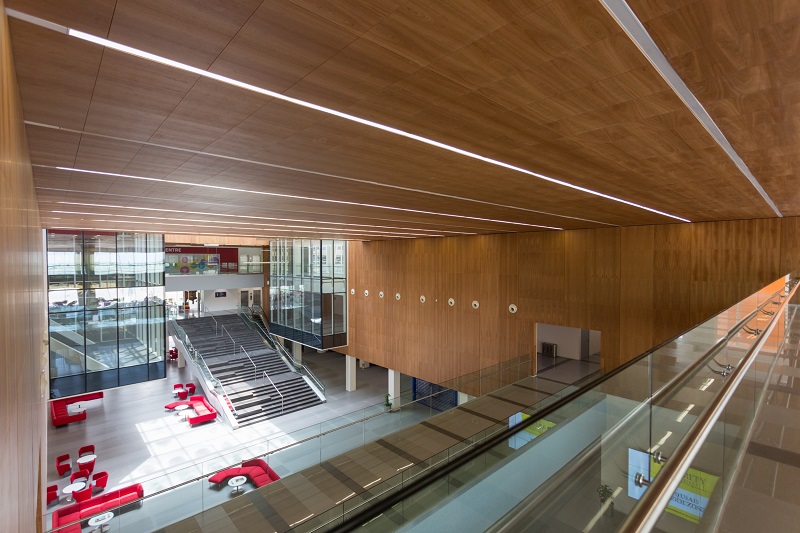 It prides itself on being an innovative, iconic, vibrant, sustainable, and forward-looking global higher education institution – and its interior design demonstrates those qualities and its ambitions to attract the best international students. Interior design specialists IR Design specified Hunter Douglas Architectural's new range of wooden ceiling and wall systems with nano-perforations for the atrium.
The wood veneer panels contain countless microscopic perforations, which are hardly visible to the naked eye, being only 0.5mm in diameter. This perforation size, compared with the usual diameter of about 5-10mm, provides superior absorption qualities and does not impact on the aesthetic quality.
Hunter Douglas provided 1800m2 of cherry veneer for the walls and ceiling and such was the exacting design detail that it was necessary to ensure the direction of the wood grain and the veneer matched perfectly on each 1200mm x 600mm panel. The design also meant that the panel sizes were adapted to accommodate the light fixtures.
Chris Wielenga, Business Manager Wood at Hunter Douglas Architectural, said each individual panel had to be numbered so that it could be installed in the correct position and place.
"Because we have a veneer master who sources the best part of the tree trunk, we can create large sheets that meet the demands of the architects in terms of size of grain and number of knots," he said.
"This was a unique challenge, but one that we rose to and completed successfully, ensuring that the wood grain continued throughout the ceilings and walls, creating a uniform look. It looks stunning."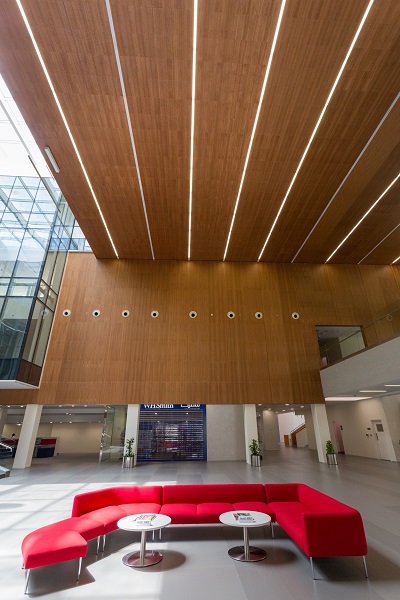 The Hunter Douglas nano-perforated panels have an acoustic value up to αw: 0.95, NRC: 0.90 and SAA: 0.90. This compares to standard perforations, which achieve about αw: 0.75, NRC: 0.75 and SAA 0.70.The panels, which achieve a reaction to fire classification of B-s2, d0 according to EN 13501-1, consist of a 16mm MDF board, a black acoustic membrane and a top layer of 0.5mm wood veneer.
Microscopic perforations are punched into the top layer. The MDF has larger – hidden – perforations of up to 12mm in diameter.
They are available in more than 40 types of wood veneer and they come in various standard sizes (600mm x 600mm, 1200mm x 600mm, 1800mm x 600mm, with a maximum length of 2780mm for wall panels) or in custom sizes on request. A range of finishes, in addition to the standard UV lacquer, includes various levels of glossiness and a pigmented finish, such as whitewash, while the panel joints can be covered, semi-covered or open.
Ceiling panels are mounted in a T-24 grid, while wall panels are attached to a frame with special clips. Because the panels can be individually removed, all systems offer full access to the plenum after installation.