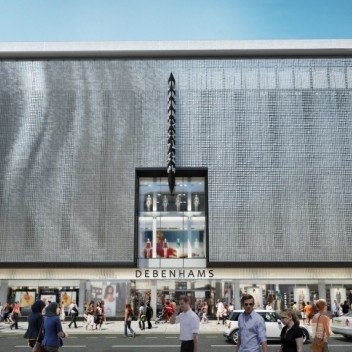 As part of a major £25 million refurbishment of a landmark Debenhams store on one of the busiest shopping streets in the world, the UK retailer had to ensure that customer entrances met their exacting requirements.

With constant foot traffic, performance and durability of utmost importance, along with striking aesthetics, an automatic and manual door entrance package from DORMA, the trusted global partner for premium access solutions and services, was specified.

The first makeover in its forty one year history, Debenhams Oxford Street external refurbishment has been designed by Archial Norr Architects in conjunction with artist Ned Kahn. As part of the redesigned 370,000 sq foot department store a significant feature will be an aluminium overcladding system that aims to create a 'kinetic façade' which moves and ripples in response to the wind.

In keeping with this impressive new exterior, a complete entrance package of 14 toughened glass door sets from DORMA were specified by Archial Norr which included seven manual pairs with DORMA floorsprings, six DORMA ED200i in-head automatic swing door operators and one all glass fire escape door featuring DORMA AD 4400 TGD panic hardware. The manual glass doors used DORMA Universal range of glass fittings and robust TP/TA door rails.

"The main design objective of the shop-fronts and associated entrances at Debenhams was to create a safe environment for public users and staff, whilst minimising frame sightlines to maximise visibility into the store.
Dorma products helped us achieve this and were specified for their trusted performance and reliability, concealed design and safety features" - commented Jason Steeples of ArchialNorr Architects.

The multi-phased installation of the complete package of DORMA door sets was completed during the store's opening hours with minimal disruption to the retailer's staff and shoppers.

When it comes to the specification and installation of customer entrance doors in retail stores, special considerations must be given to the doors' operation, reliability and safety. They must not only ensure that the building is secure, but also contribute to the overall design of the building. Building owners must also consider the long term maintenance costs and operational features when specifying a door system.

DORMA's ED200i is an automatic swing door operator that offers an optimum solution for safety in high traffic areas. During an emergency, fire doors and exit doors must continue to open for people to exit, but close firmly to prevent the fire or smoke spreading. With the ED200i, its unique package of safety, security and interfacing features means that when a fire alarm is actuated, or when the power is cut, the closer will revert from automatic to manual operation with a hydraulically dampened spring close action.

With the building now open for business and the dated concrete exterior now transformed, DORMA's automatic and manual door entrance package for the new Debenhams has helped to deliver outstanding performance, exceptional safety standards and reliable, smooth access for millions of shoppers for decades to come.