One of the most prestigious residential development projects in the UK has recently been completed using a number of different products from Sto.
StoTherm Classic external wall insulation and StoDeco profiles have been used to provide high levels of thermal insulation and an outstanding external appearance for the 11 new properties which make up the development in St John's Wood, London, close to the world-famous Abbey Road Recording Studios.
Created by the Dwyer Property development group, the Hamilton Drive scheme includes a terrace of 10 homes – each with three storeys above ground and two below - plus a separate larger property. The houses were required to achieve a very high standard of architectural finish and detailing, plus a BREEAM Excellent rating for construction sustainability.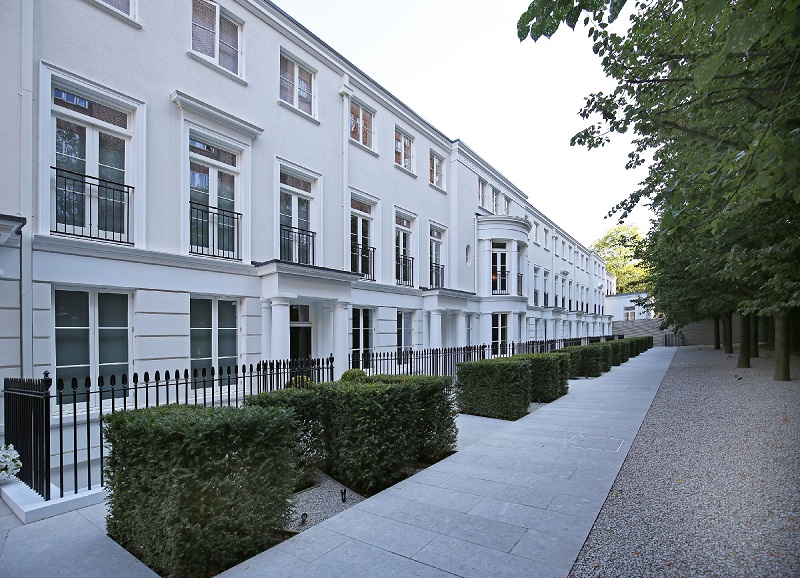 Sto solutions were selected for this project as they offered a unique combination of speedy construction and outstanding quality of finish. "Building the properties with traditional methods and using stone detailing for the façades would have taken considerably longer, and the client was looking for a fast-track solution," explains Sto's Regional Sales Manager, Pete Bishop.
"Our StoTherm Classic system was specified as it provides outstanding thermal performance and can be installed quickly and easily. StoDeco Profiles were chosen for the intricate 'stone' architectural detailing, providing the same look as stone, but in a material that is both lightweight and easy to cut and shape."
The StoTherm Classic external wall insulation used on the 70,000sq ft project was installed onto an NHBC-compliant pvc rail system, using a drained cavity designed to ensure that water and moisture is excluded from the main wall structure. The cement-free StoTherm Classic EWI System offers market-leading impact resistance, being able to withstand impacts of up to 60 joules - up to 10 times more than a cementitious system - and as it needs no additional expansion joints the system allows greater freedom of façade design. For this project the system was finished with a 1.5mm coat of StoSilco silicone resin render to provide a high degree of water repellence and resistance to the effects of weathering.
"The architectural detailing on the building façades was created using StoDeco Profiles," explains John Tehan of Smallwood Architects of London.
The range of profiles, manufactured using the remarkable Verolith material, are weather resistant, durable, lightweight and easy to work and install. Available in a wide range of standard designs, including sills, cornices, and many other decorative architectural elements, StoDeco Profiles can also be custom made to provide a unique visual appearance.
"At Hamilton Drive the profiles were used to create cornice, window and chimney detailing, plus a wealth of columns, arches, dentil courses and other features that were required to enhance the building's classically-inspired design," adds John Tehan. "Sto were closely involved with this project, and many of the individual StoDeco Profiles were manufactured to bespoke sizes and designs, to allow the required detailing to be created."
"There was an enormous quantity of detailing required on this project and the standard of finish had to be the very best," comments John Bishop of Kennet Construction, a Sto authorised applicator who completed the installation work. "Fortunately, the Sto products were very easy to work with. Many of the StoDeco Profiles were pre-cut prior to delivery, and they proved to be very easy to work, shape and sand on-site so that we could achieve a perfect finish."