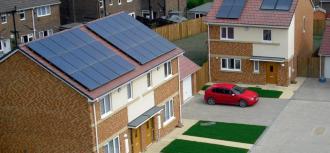 As part of achieving higher levels of the Code for Sustainable Homes (CSH) and BREEAM (Building Research Establishment Environmental Assessment Method), building designers are enhancing thermal efficiencies by positioning windows directly over the cavity.
Maximising thermal performance in these applications relies on wider cavities and being able to source windows with a U value of 0.8W/m²K, the requirement for Level 6, zero carbon developments. Historically, the window had to sit partly over a structural inner or outer leaf, as cavity closers were not designed to take the weight of a window, or be used structurally for fixing windows.
We recently worked with Gentoo Homes on its Code for Sustainable Homes Level 6, zero carbon Racecourse site in Houghton-le-Spring, Sunderland, where our 0.8W/m²K U-value windows are positioned over a 300mm cavity.
Gentoo Homes is the new build housing development arm of the Gentoo Group and is leading the sustainable communities' agenda in the social housing sector, through involvement in a number of ground breaking projects, including the Racecourse development.
The Energy Saving Trust and the Zero Carbon Hub are working with Camco to support Gentoo Homes with the delivery of the 28 houses designed to PassivHaus standard. This focuses on a high level of building fabric performance, taking advantage of the orientation of dwellings to benefit from passive solar gain, super insulation and triple glazed windows to ensure a high level of thermal performance and airtightness. In addition to the homes being designed to PassivHaus standards, there are Code for Sustainable Homes levels 3, 4, 5 and 6 properties on the development.

Zero Carbon Window
The architects approached us for a zero carbon window and cavity closer solution on the Level 6 properties, which had an overall wall thickness of 502mm. We had a readymade solution in our Eurologik 0.8 W/m²K U value window, which meets both the carbon reduction requirements of UK Building Regulations to 2016 and the sustainable design criteria of the Code for Sustainable Homes and BREEAM – all in one product. This specification gave Gentoo a single product solution all the way through to the 2016 zero carbon deadline, without having to change designs after each successive legislative stage.
The 0.8W/m²K U-value window represents a major breakthrough in window technology, as it retains the aesthetics of our existing window systems, whilst achieving some of the best thermal performances in the market. Our PVC-U Thermal inserts are used to improve the thermal performance of the frame. These are made from 100 per cent post-consumer recycled PVC-U, often from end-of-life frames returned from site, at our dedicated post consumer recycling facility in Derbyshire.
The Code Level 6 properties on the Racecourse development are designed with an external envelope equivalent to PassivHaus standards, allowing residents to maintain a comfortable interior climate without active heating and cooling systems. The window achieves Secured by Design standard. Walls have an overall thickness of 502mm with 300mm EPS bead filled cavity, which achieves a Uvalue of 0.10W/m²K.
Cavity Closer Solution
Once the zero carbon window solution had been identified, we worked with the architects at Gentoo Homes to develop a structural cavity closer system based on our Cavalok BigBlok system suitable for the 300mm cavity. This utilised new structural thermal materials, enabling the zero-carbon windows to be seated and fixed directly onto the main body of the closer. This eliminated the need for strapping back over large spans to inner structures.
"One of the first challenges we had to overcome was supporting the triple glazed 0.8W/m²k Uvalue window over the 300mm cavity," said Verity Moss, Project Architect at Gentoo. "With such a wide cavity, combined with the weight loading from triple glazed windows, the only way this could be done was to make the cavity closer structural."
"Specifying products for these elements of the project was made much easier because we were able to source both from a single company – we also liked the fact that they were manufactured using post-consumer recycled PVC-U."
The 0.8W/m²K window and cavity closer solution plays an important part in helping the threebedroom Gentoo Homes' properties in Sunderland achieve Code for Sustainable Homes Level 6 requirements.
PVC-U Recycling Improves Energy Efficiency
Since developing the Code Level 6 window and cavity closer solution as part of creating an external envelope equivalent to PassivHaus standards, we have had a number of enquiries from other housing providers. An additional advantage highlighted by these organisations is that our solution uses post-consumer recycled PVC-U to improve energy efficiency.
Both our recycling and manufacturing operations are UK based – within the same area of Derbyshire - and the £3m investment by Tessenderlo Group, our parent company, in enlarging our plant means that we are now actively seeking more end-of-life PVC-U. The simple message is that we are interested in talking to any organisation that has quantities of post-consumer window frames.
Using the recycled PVC-U to make new, energy efficient windows is an interesting proposition for housing providers and specifiers looking to avoid landfill charges and demonstrate sustainable use of materials. Just how far you can go with improving the thermal performance of a window using this recycled material has been demonstrated on the Gentoo project.
The Racecourse site is an area identified for renewal as part of the Gentoo Citywide Renewal Plan, which aims to replace obsolete and unsustainable housing stock with around 4,000 new high quality homes. The project is believed to be one of the first PassivHaus developments of this scale in the UK. It provides specifiers with a useful insight into the technical challenges and processes involved in designing and building homes to advanced energy performance standards.
The increasing complexity of building standards means that more housing associations are looking for a single window and cavity closer solution that is designed to meet legislative requirements, up to the 2016 zero-carbon deadline. This takes away much of the confusion and complexity around building standards. For that reason, specifiers see the benefits of choosing products that meet both current and future performance requirements.
For details of how Eurocell windows and Cavalok cavity closers can help your project, visit: www.eurocell.co.uk or www.cavalok.co.uk, contact customer services team on 0800 988 3049, or email: press@eurocell.co.uk