Altro Orchestra smooth flooring has been used to create two child-friendly woodland-themed reception and play areas as part of a refurbishment in Milton Keynes Hospital Paediatric Emergency Department.
Altro Suprema safety flooring was also fitted in the new unit's observation areas, treatment bays, examination rooms, and toilets.
AD Architects designed the new unit and chose Altro Orchestra to create two colourful, reception play areas. Interior Architect Ashley Hughes, says: "Altro Orchestra was the ideal choice for flooring because it has excellent colour and texture choices, which enabled us to be creative and flexible with the design.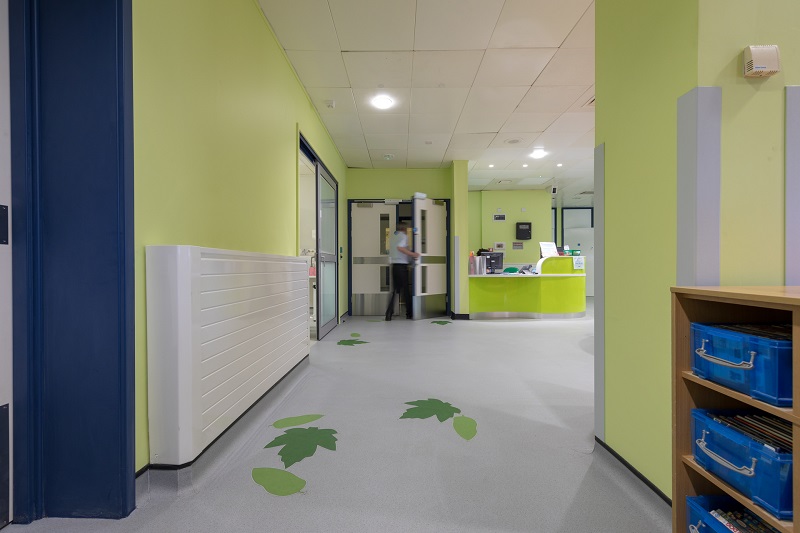 "The product is also perfect for an Emergency Department and paediatrics because at 2.85mm it's very comfortable to walk and sit on, and it's designed to reduce noise reverberation, these are both qualities we were looking for.
For areas where comfort and sound reduction are important, 2.85mm Altro Orchestra has been engineered to create the ideal environment to learn and live. Low residual indentation means equipment and furniture, including hospital beds, can be moved without leaving marks. At the same time the integrated impact sound insulation system cuts impact sound by up to 15dB.
It offers comfort underfoot making life easier on the feet, and with a palette of 40 colours and designs — varying from calming neutrals reflecting tones of nature to vibrant shades — it creates the right atmosphere every time.
"Using Altro Suprema in the new unit was an easy choice because it's great for general areas in hospitals where safety underfoot is important," Ashley continues. "We specify it often for this type of environment; it has as a stylish non-sparkle finish with a great colour range and is easy to clean."
John Brierley, Head of Capital Projects at Milton Keynes Hospital, says: "The overall look is fantastic, plus the acoustic and cushioning benefits of the products contribute to the comfort of everyone using the area. It just goes to show how using the right products can create a lovely, creative and calming environment for children.
"The Altro Suprema flooring also looks superb. It's a great, practical flooring which is ultra-safe, but also very stylish and it really adds to the environment."
The new unit was built by Parias Commercial Interiors, and the Altro flooring fitted by Total Flooring.