Since its opening in 1889, the Eiffel Tower has welcomed an ever-growing amount of tourists.
Over the years contractors have restored and adapted the monument using Lindapter steelwork fixings to accommodate the increase in visitors and their needs.
For example, Lindapter connections played a key role in the first floor renovation, where facilities such as new meeting rooms, exhibition spaces and restaurants were quickly constructed without drilling or welding on-site.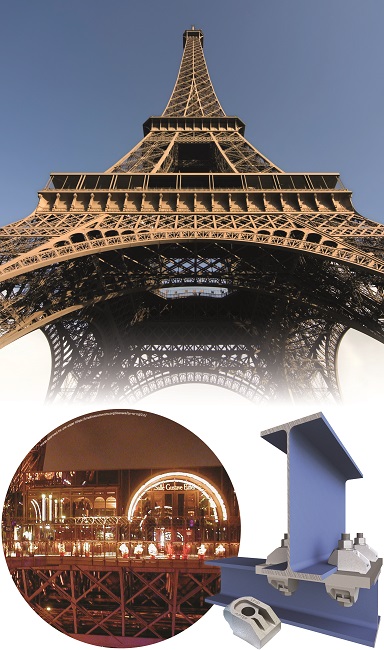 The contractor contacted Lindapter's technical team for a strong, reliable and quick connection method for attaching various steel sections together while ensuring the integrity of the tower's original architectural steelwork.
After speaking to one of Lindapter's engineers, the contractor took advantage of Lindapter's free connection design service and quickly received 2D and 3D drawings of the proposed clamping system which omitted the need for drilling or welding on site, while preserving the original steelwork and its coatings.
After evaluating Lindapter's connection proposal, the contractor was sure that Lindapter's high slip resistance clamps were the correct choice for the application due to the guaranteed safe working loads and superior corrosion protection. Further reassurance was offered by Lindapter's range of independent approvals and over 80 years' experience in designing and manufacturing connections.
The builders used Type AF24 clamps to secure the new buildings' steel frames back to the original structural steelwork. The Type AF high resistant clamps provided lateral adjustability during installation, which allowed the contractors to simply slide the sections into position before tightening with standard hand tools. This added further speed and convenience to the project and ensured minimum noise and disruption to the nearby tourists.
Once the frame was created for the new buildings, Lindapter's CE marked Hollo-Bolts were used to securely attach pre-drilled hollow steel sections to form the roof of the new rooms.
The end result was a quick turnaround on the construction project and minimal disruption to the most visited paid-for attraction in the world.