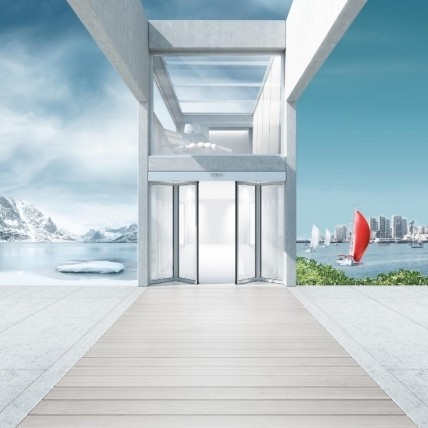 Trusted global partner for premium access control solutions DORMA has launched the new FFT Flex Green folding door.

Stylish and contemporary, it also provides specifiers with a market leading 2.4 maximum width making it an ideal solution for applications where space is restricted.

In addition, the FFT Flex Green folding door offers excellent thermal separation efficiency and is certified for escape routes.

The FFT Flex Green offers a modern and appealing aesthetic, featuring elegant frames that can be specified up to 2.5 metres in height and 2.4 metres width. Suitable for both external and internal applications, adhering to EN 16005 standards and possessing safeguarded self-monitoring sensors, the door provides secure use for emergency exits and other areas of a building. It also provides a thermal separation feature, with low thermal transmittance values.

The folding door benefits from an intelligent drive system that detects wind loads and compensates accordingly for superior operating smoothness. Furthermore, it offers improved dynamic response and silent efficiency by transmitting its power without toothed belts. Consequently, the doorset opens and closes particularly quickly, yet also quietly and with minimum wear.

DORMA's product range of space saving doors are compatible with CODIC MasterCard, MATRIX Professional Electronic Access Control solutions, traditional card and proximity wall reader systems.

"At DORMA UK we pride ourselves on creating stylish, innovative doors that include space saving and access solutions," commented Phil Jones, Strategic Marketing Manager at DORMA UK. "Folding doors are ideal when there is insufficient lateral space for sliding doors or front and rear space for swing doors. With the FFT Flex Green Folding Door, DORMA UK is able to provide an intelligent door operating system with a multitude of design and performance benefits."

For smaller applications the FFT Flex Green also has a smaller option consisting of just one pair of panels, which uses a unilateral opening doorset to create an opening width of up to 1.2 metres.

The FFT FLEX Green Folding Door is available now.