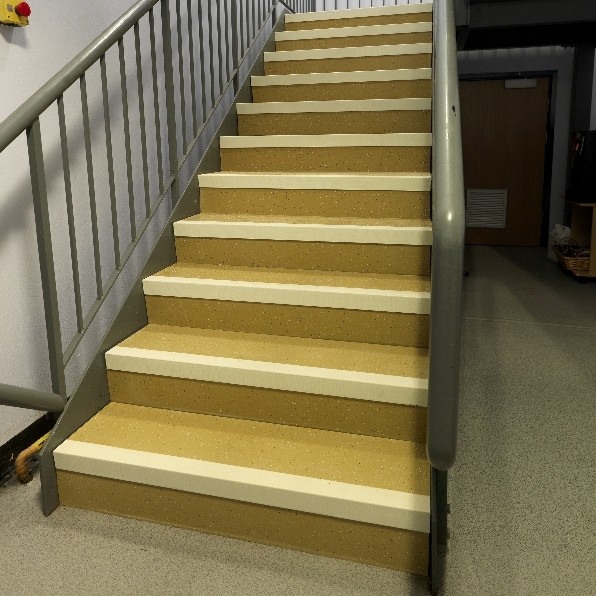 Watco Firm-Step interior is a unique Glass Reinforced Plastic (GRP) safety range that is ideal for interior use.

It was developed as a result of customer feedback highlighting the need for a suitable interior anti slip solution.

Rob Jenkinson, Watco Product manager said: "Our customers have long been asking for a product with similar anti slip properties as the outdoor GRP solutions but with a smarter finish for indoor use. We did some research and found there was no such product available on the market so we set out to do it.

"It took two years to design, test and manufacture but Firm-Step Interior is finally here and we're really proud of it."

Made with rounded glass beads, the new Watco Firm-Step Interior range has excellent slip resistant properties (Dry PTV 63, Wet PTV 58), is hard wearing, easy to clean and looks good too. This makes it an ideal anti slip solution for use on internal staircases and walkways in offices, factories, hospitals and schools.

The Watco Firm-Step interior range comprises of three products:
- Firm-Step Covers interior will give an effective anti slip protection to internal stairways.
- Firm-Step Risers is designed to cover the vertical surface of the step. Combined with the Firm-Step™ Covers interior, they ensure a perfect finish to interior steps.
- Firm-Step Sheets interior are 4mm thick anti slip sheets that will transform drab and dull areas, as well as securing your landings.

All the products are available in two colours: grey and stone and can be easily assembled using screws or glue.

Watco is currently offering an introductory 20% off (first order only) the Firm-Step interior range with code FS20L.