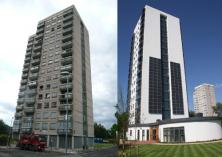 Ecobuild first-timer Sto is exhibiting its range of External Wall Insulation Systems. Traditionally focused on high specification new build projects, the technology is also perfectly positioned for use in retrofit projects designed to improve the U-value of solid wall property.
All of the Sto EWIS options will provide a minimum U-value of 0.3W/m2K with the flexibility to reduce the U-value further by adjusting the volume of insulation material specified.
The proven ability to deliver a U-value of 0.12W/m2K when retrofitted to existing solid wall structures is particularly attractive to social housing providers faced with the need to upgrade aging properties.
Since StoTherm Classic was launched in 1963 the recognised quality of the Sto products combined with their excellent aesthetic has established the brand as the first choice for specifiers working on landmark contemporary buildings.
The Sto range has expanded to cater for individual specifications. EPS or mineral fibre insulation uses mechanical or adhesive fixing methods finished with different render options and a huge number of decorative finishes to provide for countless aesthetic choices.
At the Ecobuild stand, Sto will deconstruct the EWIS, illustrating how the impressive U-values are achieved and demonstrating the market-leading impact-resistance that can be attained.