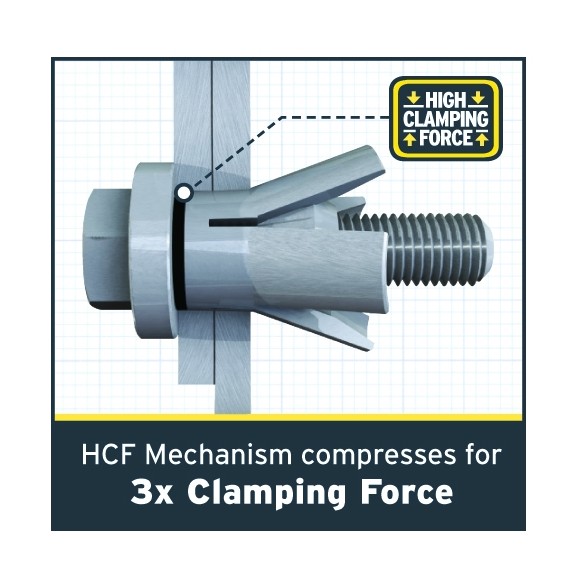 Lindapter has launched its High Clamping Force (HCF) Hollo Bolt, an enhanced version of its original expansion bolt for SHS, optimised for structural connections.

The Hollo-Bolt HCF is available as standard in sizes M16 & M20 and features Lindapter's patented HCF mechanism that produces a typical clamping force three times higher than the same sized product without the mechanism. The increased clamping force results in a more secure connection.

Working closely with structural engineers and steel fabricators, Lindapter identified the need for the larger M16 & M20 products to provide an increased clamping force that would be suitable for structural connections.

Research and development led to the invention of the patented 5-part design, with an innovative washer that compresses during installation to significantly increase clamping force between the fixture and the hollow section.

The superior performance minimises displacement (movement in the connection) at Safe Working Load for a more secure connection. The Hollo-Bolt HCF is designed to save steel contractors time and money and is exclusive to Lindapter.

The CE Marked fastener is recognised by the BCSA/SCI as a primary structural connection and is ideal for other safety critical applications such as securing steel canopies, roofs, glazing and cladding. The Hollo-Bolt offers a faster alternative to conventional SHS connection methods such as welding or through-bolting, enabling contractors to reduce construction time and labour costs.