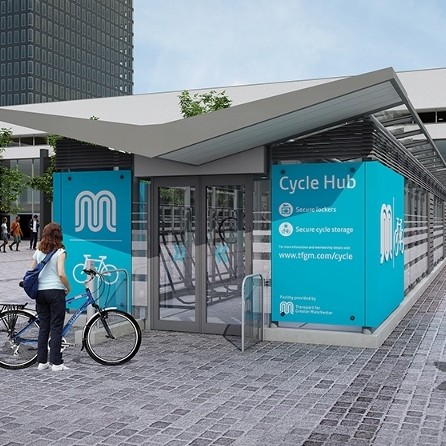 As part of the £6 million Commuter Cycle Project, Transport for Greater Manchester (TfGM) has opened a major new cycle hub in the iconic City Tower skyscraper in Manchester's Piccadilly Gardens.

With up to 200 users per day, a resilient and robust automatic door was a prerequisite for the main entrance – with DORMA's RST automatic space-saver door fitting the bill.

Designed by Aedas Architects and built within a strict 10 week programme by Globe Construction, the new facility has been integrated into the lower ground floors of the famous 30-storey City Tower. With large footfall expected at the high-profile redevelopment, a proven specification was required to deliver excellent, reliable performance in challenging conditions.

Having specified DORMA's RST space-saver doors at the £4.5 million Middleton Bus Station in 2005 – and with the doors still fully-functional and performing strongly eight years later – Aedas once again turned to the trusted global partner for premium access solutions and services.

DORMA RST space-savers are designed so that the door leaves perform a swivel motion in the smallest of spaces. As a result, the clear passage width is minimally less than the overall structural width of the doorway. And as with all automatic doors from DORMA, the RST excels in terms of its fast, smooth, quiet operation and user-friendliness.

The DORMA RST meets high standards of safety and reliability, and can also be used on emergency escape routes as they can also be opened like a conventional hinged door.

DORMA was also appointed to supply low energy solutions for two separate exits. For their virtually silent, smooth operation and compact design, DORMA ED 100 low energy swing door operators were supplied. Opening the door at precisely controlled speeds and forces, even in tough climatic conditions, the ED 100 assures safety for all users and removes the barrier of physical ability – when carrying or riding a bicycle upon exit.

The Times newspaper claims that bike commuting has increased in popularity by 17% in the past 10 years, with Manchester alone experiencing a 90% rise. Whilst making the city more cyclist-friendly, the flagship Cycle Hub is now benefiting from DORMA's renowned RST automatic door and ED 100 swing door operators that will provide first class performance for years to come.