Sika supplied the concrete repair and corrosion management system as part of urgent refurbishment work to extend the service life of a town centre bridge.
Sardis Road Bridge in Pontypridd, South Wales provides an essential link to the town's gyratory system. Following an inspection, however, the bridge – which spans the River Rhondda – was found to contain cracks and spalling on its beams. This was as a result of chloride contamination leading to corrosion of beams' concrete reinforcement. Repairs were crucial in order to arrest the ensuing deterioration and negate the need for more significant future refurbishment. Contech UK was appointed by North Midland Construction to carry-out the £1million refurbishment. It included the construction of a permanent 'C' frame prop to support the repaired section of bridge.
Before repair work commenced in May 2017, Sika partner, Vector Corrosion Technologies, provided technical assistance to the on-site engineer who devised the design solution for the installation of Sika® Galvashield® CC 100 anodes. These were quickly and easily installed to the reinforcement to control and prevent further corrosion activity at nearby sites. The anodes, available in a range of sizes, comprise a specially-formulated precast cementitious mortar which surrounds and activates its sacrificial core. When correctly installed and connected, the zinc anode corrodes preferentially to the surrounding steel, providing galvanic corrosion prevention and control to the adjacent reinforcement.
Sika® Galvashield® Embedding Mortar was placed around the anodes to improve their performance by creating a low resistance environment. SikaCem®-133F Gunite then provided the high-performance, cement-based mortar to replenish the repaired areas of concrete. The mortar was dry spray-applied and hand-finished with a trowel to provide a smooth finish. Sika® Galvashield® XP embedded galvanic anodes provided additional protection for the rehabilitated concrete by preventing the formation of new corrosion sites adjacent to the completed repairs.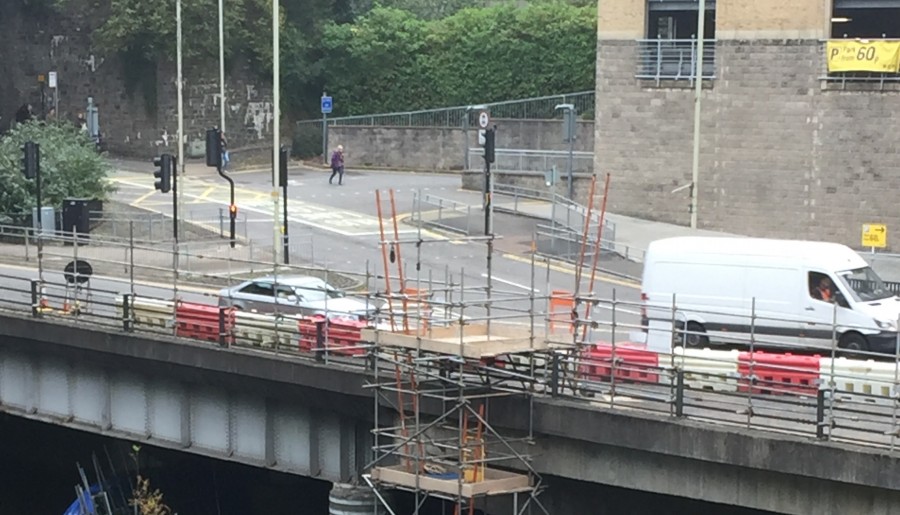 In terms of the refurbishment, inclement weather provided the biggest challenge for contractors whose work schedule was regularly disrupted by the poor conditions.
Neil Chalmers, Business Development Director at Contech UK, said: "The weather put paid to a number of working days during the Sardis Road Bridge project. It was imperative we were able to complete the refurbishment as quickly as possible in order to minimise bridge closure times. Whilst this was not always possible due to conditions, the Sika repair and corrosion management system provided ample compensation. It was quick and simple to install, and its long-term effectiveness will eliminate the need for more significant and potentially costly future repairs."
The Sardis Road Bridge refurbishment was completed in January 2018. Thanks to Sika, along with the skills and experience of Contech UK's onsite teams, a vital town centre transport link has been restored; its all-important structural supports now fully-protected against corrosion's debilitating effects for the safety and convenience of the thousands of motorists who journey across the landmark bridge on a daily basis.