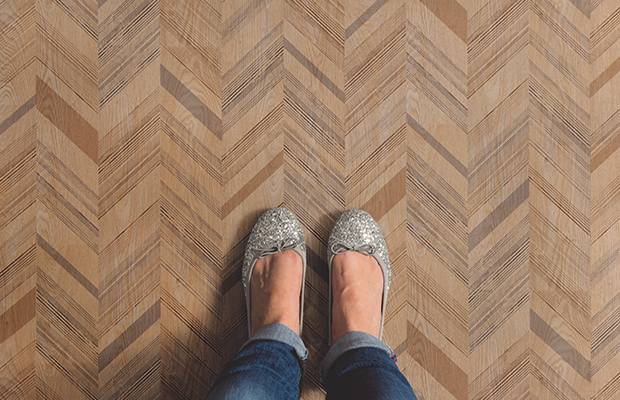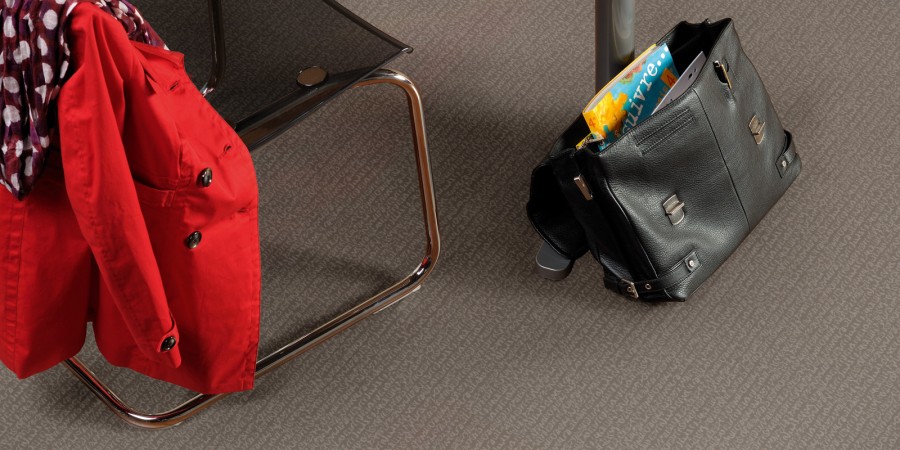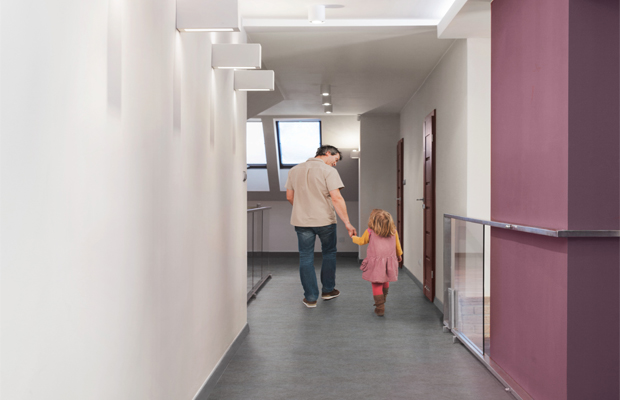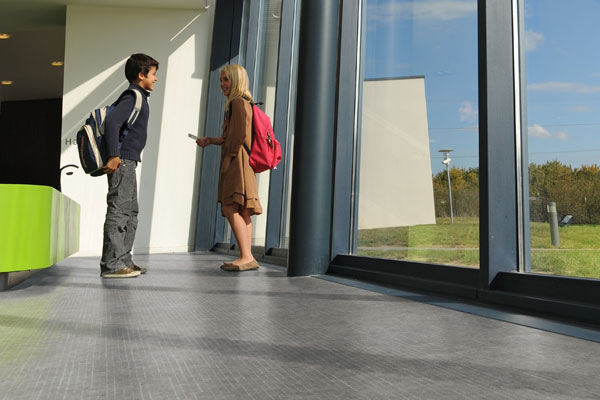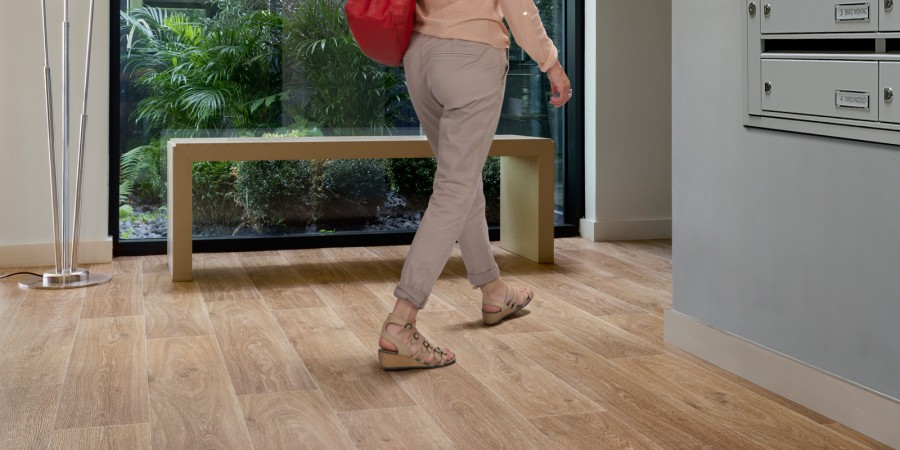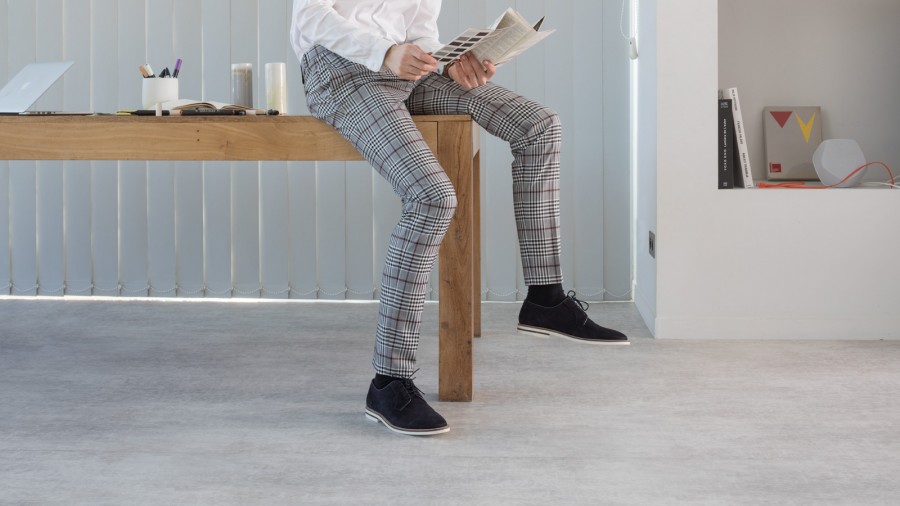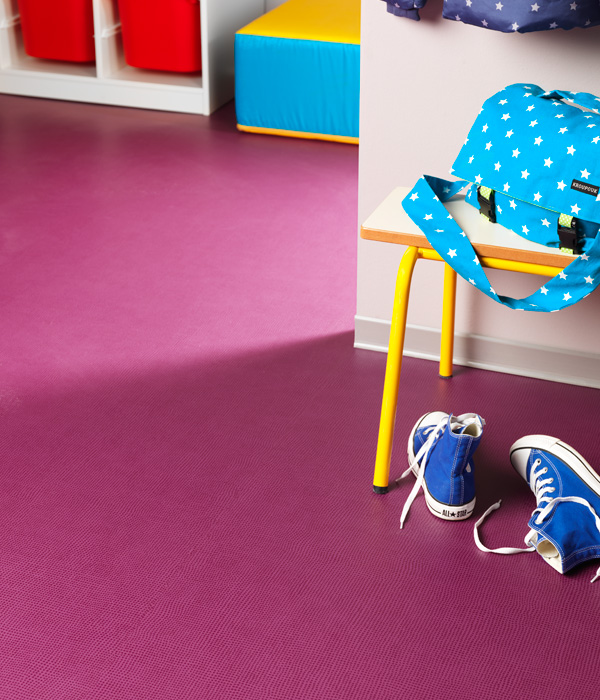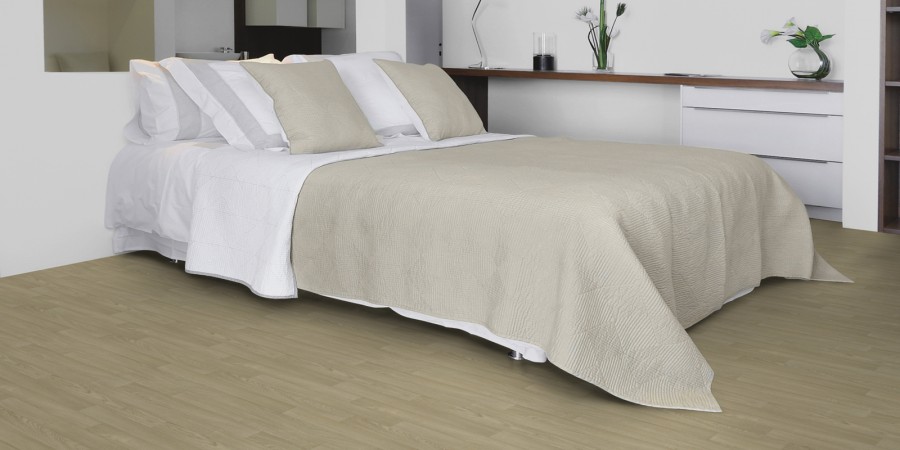 For excellent resistance to static and dynamic loads, Taralay Premium Compact is perfect. This heterogenous flooring has superb dimension stability, partnered with quick indentation recover (0.02mm). This means there is minimal rucking when wheeling heavy objects across the surface. The densely pressed coloured chips in the wear layer give a long lasting appearance. This product has extreme stain resistance and does not require a polish throughout its life. This is due to the new and improved Protecsol® surface treatment.
Offering excellent acoustic and shock absorption properties, Taralay Premium Comfort is designed with comfort in mind. Benefitting from high acoustic performance (16dB) and safe underfoot cushioning, Taralay Premium comfort is perfect for a multitude of high traffic applications. This extremely durable flooring solution is available in a range of bright colours, to suit a range of designs.
The Taralay Impression compact range has a 0.70mm PVC wear layer, making it ideal for heavy traffic areas. With an improved R10 slip resistance, you can rely on this vinyl flooring to be safe and reliable. The Protecsol® 2 surface treatment to ensures no polish is needed for the entire lifetime of the product.
If your facility requires excellent sound insulation, Gerflor recommend Taralay Impression Comfort, due to its 19bD sound rating. Suitable for use in medium to high traffic areas, Taralay Impression Comfort is a wise choice for hospitals, schools, commerical public areas, and a wide range of other environments. You will have the freedom of design as a mix of vibrant colours and wood effect designs are available. The VHD backing offers excellent indentation resistance.
Taralay Uni Comfort is available in 13 plain colour ways, perfect for cut design work. This acoustic multi-layered vinyl floor covering offers 17dB sound insulation. Ideal for normal to high traffic areas including schools, hospitals, public areas and retail outlets. The Protecsol® surface treatment means Taralay Uni Comfort has an ultra low whole life cost, as their is no need to polish for the full life of the flooring. The VHD backing offers excellent indentation resistance.
Available in a wide range of colours and textures that give a contemporary design, Taralay initial comfort is suitable for a number of environments. With T Group high abrasion resistance, Taralay Initial Comfort also has a high resistance to indentation (0.12mm).

Benefitting from a 0.75mm wear layer, Taralay Element compact offers very heavy traffic resistance. This flooring has no filler for outstanding abrasion and scratch resistance. Taralay Element Compact has two-dimensional stability due to the glass fibre grid construction. Treated with Protecsol® surface treatment, this Multilayered Vinyl Flooring is incredibly easy to maintain.

Taralay Element Comfort offers very heavy traffic resistance. In addition, it also benefits from good acoustic resistance. This Multilayered Vinyl Flooring is easy to maintain and the range includes durable and bright colours. The design lies within the whole thickness of the wearlayer.

Voted CFJ/CFA Product of the Year at the 2016 Flooring Industry Awards, the stunning Taralay Impression Control range consists of a Safety in Wood and a Safety in Design offer. Perfect for hardworking areas, Taralay Impression Control has been specially developed with contract applications in mind. If you're looking for inspiration and a tough safety flooring that offers both slip resistance and outstanding performance, then look no further.
Taralay Initial Compact is a new range of wood, concrete and textile designs with natural colours. It boasts excellent acoustic and indentation performance - 0.03/6 db. Taralay Inital Compact is easy to maintain and suitable for high traffic areas.