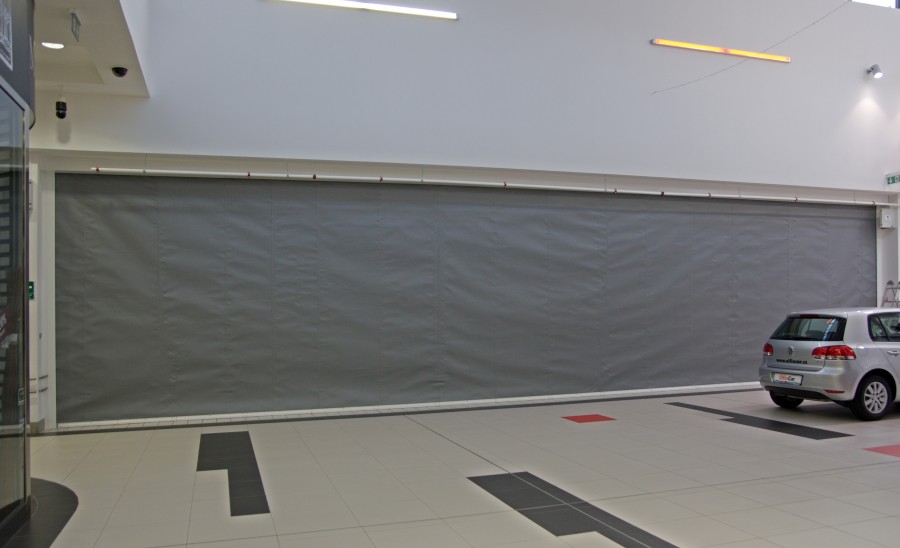 Fire Resistance
Tested to EN 1634-1 and achieved a rating of EW120 (integrity and radiation reduction).
Curtain
Constructed from specially reinforced and coated fibre-glass material sewn together with stainless steel wire.
Bottom Rail
The bottom rail is formed from a triangular steel section.
Guides
The side guides are formed from galvanised steel and are prepared for fixing to the opening structure by means of steel bolts. The standard guide size is 100 x 50mm.
Endplates
Fabricated from galvanised mild of adequate thickness relative to door size and supplied with angles for fixing to the structure.
Casing
The casing is manufactured from galvanised steel and is available in different sizes dependant on opening sizes.
Finish
Galvanised as standard. The casings, bottom rails and side guides are also available in a polyester powder coated finish in a range of standard RAL colours at extra cost.
Weight
Approximately 30 kgs per linear metre of width.
Operation
Electrical operation is by means of a 240 volt tubular motor with gravity failsafe closure.
The standard unit is pre-wired obviating the need for a site electrician.
Fire Activation
In a fire condition, activation is initiated by an incoming signal from the fire alarm system. Closure is by gravity with a controlled descent.