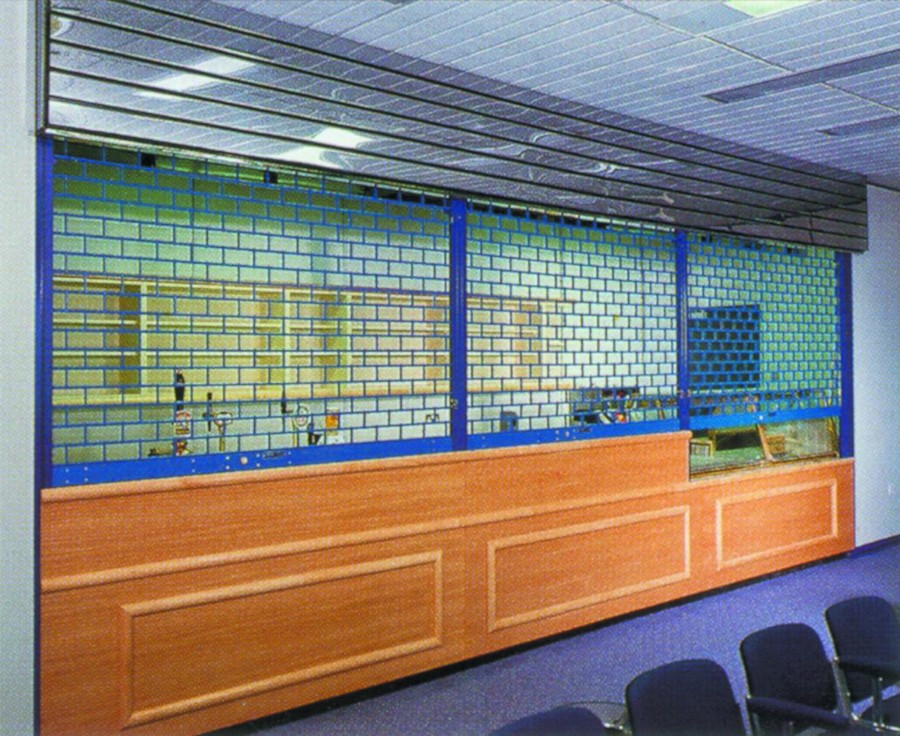 Curtain
Constructed from aluminium tubes and links arranged in a brickbond pattern with a mesh size of 230 x 70mm. Internal horizontals are manufactured from 8mm diameter round bar and pinned at each end to prevent lateral movement.
Bottom Rail
Mill finish aluminium inverted tee section.
Guides
The side guides are formed from 38 x 29mm extruded aluminium channels and prepared for fixing to the opening structure. Fixed and intermediate guides in 90º, 135ºand 180º versions are available.
Endplates
Fabricated from mild steel of adequate thickness relative to door size and supplied with angles for fixing to the structure.
Roller
The roller is manufactured from mild steel tube of sufficient diameter and wall thickness to resist deflection and is mounted in bearings or cups on each end plate.
Finish
Mill finish as standard. Silver anodising and polyester powder coating to a standard range of RAL colours is available at extra cost.
Weight
Approximately 20 kgs per m².
Operation
Electrical operation is by means of a single phase tubular motor. A safety brake is fitted to all grilles where personnel could pass underneath thus meeting all relevant Health & Safety requirements. The client should provide a fused spur within 500mm of the motor position.
The standard controls are by means of open / close / stop push buttons fitted adjacent to the grille. Other types of control are available at extra cost.
Casings
Coil casings fabricated from galvanised steel sheet are available as optional extras.