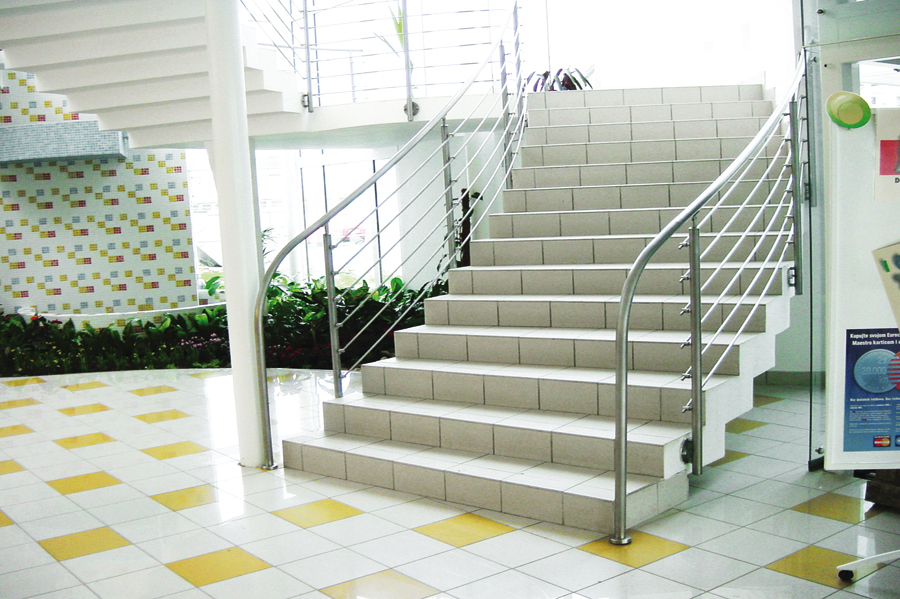 Aalco helps bring designs to life
Aalco is the UK's largest independent multi-metals stockholder and provides a wide range of solutions for the built environment – internal and external, structural, cladding and decorative. The range of Aluminium, Stainless Steel, Copper, Brass and Bronze provides a complete selection of finishes, colours and textures for every situation.
Aalco offers an exciting range of Handrail and Balustrade solutions that includes:
Frameless Glass U
For those looking for simplicity and clean lines that works equally well over flat or uneven surfaces.
Frameless Wall Fixing Point
Specially developed to enhance the beauty of glass, this system holds the glass in place by fixing directly to the glazing support.
Frameless Floor Fixing Point
The optimum solution for all-glass railings and balustrades.
Frameless Special
An easy to assemble, versatile system that gives a clean and dynamic style.
Round Bars
A faultless classic for railings and balustrades with timeless style.
This system is also available with anti-climbing handrail supports.
Square Bars
For those installations that demand a square style
One Glass Clamp
A contemporary, safe and unique balustrade, combining the strength of steel with all-glass panels.
Two Glass Clamps Round
A version of the range utilizing two clamps
Two Glass Clamps Squared
An alternative version where a square profile is desired
Cable Round & Cable Square
Two ranges that are reminiscent of bygone naval architecture with matching railings and supports.
New to the range is an LED railing system which has been designed to integrate harmoniously with a variety of architectural settings and situations. The system provides close proximity lighting to stairs and walkways and eliminates the need to light an entire area.
The LED Railing System helps increase safety and security at low cost due to the inherent low energy consumption of the technology.
With 19 locations around the UK, Aalco provide an unrivalled service for the architect, interior designer, contractor and house builder alike.
In addition to the sale and supply of handrail and balustrade systems, Aalco offers a turnkey project service for the commercial and public sector for bespoke staircases, balustrades and architectural metalwork. A service that includes: site surveys, design proposals, manufacture and installation.
Working with architects, designers and engineers, Aalco provides design solutions to suit any environment which will be compliant with all legislation and regulations.