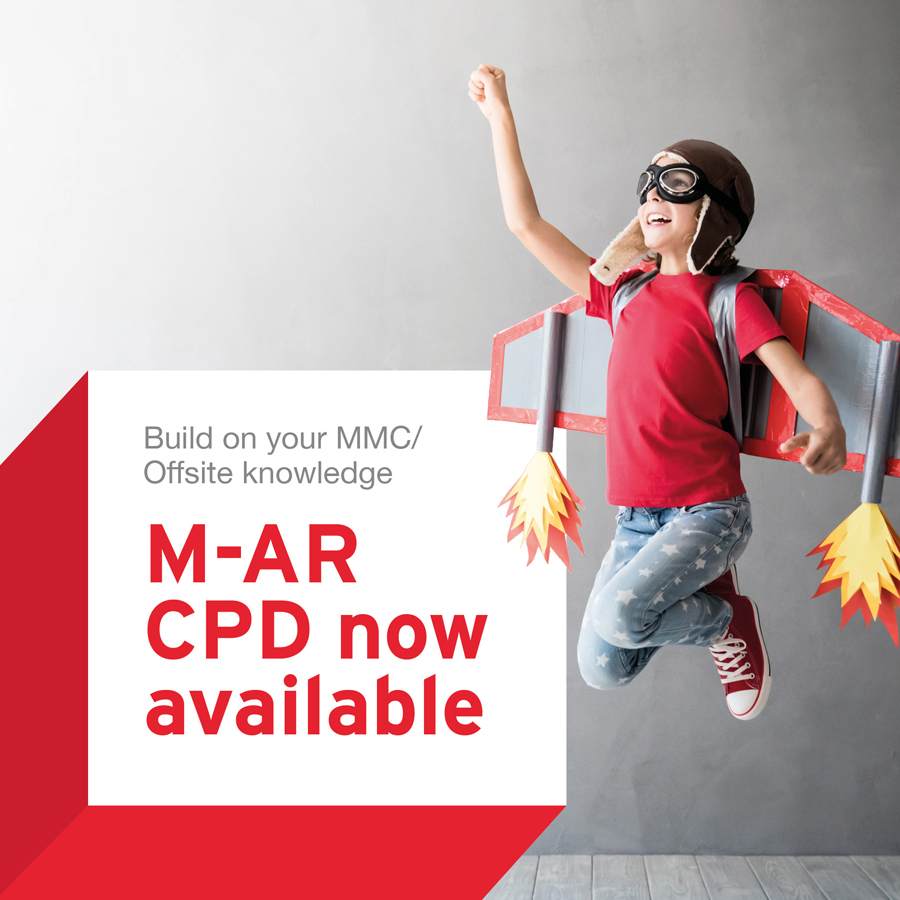 Offsite contractor, M-AR has launched a brand-new CPD module focussed exclusively on modern methods of construction (MMC) and exploring how best to maximise the benefits of offsite.
Typifying M-AR's open and collaborative approach to improving standards across the industry, the new CPD is designed to provide architects, specifiers, cost consultants and end clients alike with insight on the offsite manufacture and installation process as an alternative to traditional build.
Guiding participants though the range of MMC solutions, M-AR's first public CPD presentation looks to address key questions such as how to get the most out of MMC, what options are available, and how to deliver the best end result in the most effective and efficient way. M-AR will share its own insight along with examples of best practice and lessons learnt from challenges overcome by the team on projects of varying sizes and spanning different sectors.
The benefits of offsite, from cost predictability to programming efficiency and improved site safety are well documented so the new CPD from M-AR delves deeper into the concept of offsite. It provides practical insights like how to effectively work with your offsite manufacturer as part of your build programme to maximise the benefits for each project. M-AR is a contractor with a manufacturing facility which means that it effectively spans both disciplines so is ideally placed to advise on the requirements of any project from both perspectives – providing a full 360 degree approach to offsite.
Ryan Geldard, operations director at M-AR said: "We're passionate about offsite construction as an alternative to traditional build and we've long believed that it shouldn't come under the 'modern methods of construction' label but instead be classed as mainstream. That's why we want to share our own offsite knowledge and best practice through our new CPD so our clients, partners and peers can fill in any gaps in their own knowledge. The CPD will also be a great way to make sure they feel comfortable working within the parameters of an offsite project and know how to do so effectively.
"What we'd like our new CPD to achieve more than anything else is to open up conversation with clients and consultant teams to spark wider debates on offsite and MMC so that together we raise the bar for offsite uptake so it becomes a mainstream method of construction now."
The free CPD presentation will be available from March 2022 and will be delivered either face-to-face or virtually by M-AR's expert team. For more information and to register your interest, please call 01482 635 08, email buildingrelationships@m-ar.co.uk or visit www.m-ar.co.uk