Permeable paving is gaining more and more momentum as increasing amounts of countryside are covered by infrastructure. With less open ground around to absorb the rainfall, large volumes of water are putting increasing pressure on our drainage, sewerage system and waterways.
Worryingly, the Environment Agency has stated that "over 3 million properties in England are at risk of surface water flooding. It hits not just individual homes and businesses but the whole infrastructure – public amenity areas, road, rail, utilities etc – of a town or city, disrupting pretty much all aspects of modern life."
As a result, many local authorities and planning departments are incorporating the use of permeable paving systems into their schemes to help manage the problem.
UltraScape have always prided themselves on educating, training and providing materials that the industry needs to stay ahead in today's fast moving environment. With that in mind, UltraScape are delighted to introduce their latest RIBA approved core curriculum CPD – The Environmental Benefits of Installing Permeable Paving.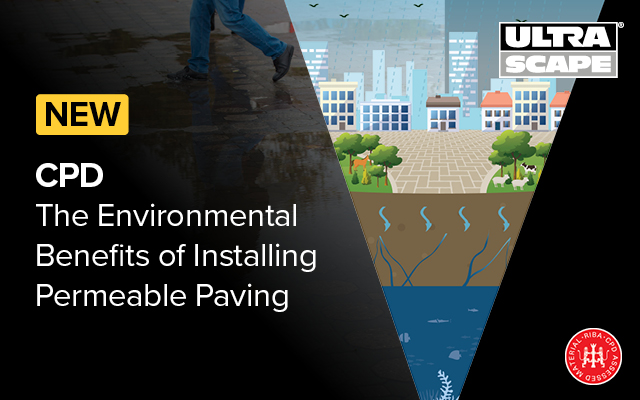 Authored by Shamshad Ali, Instarmac's Technical Manager with over 30 years involvement in the development, application and specification of cementitious products, and Andy Griffiths, UltraScape Brand Manager with over 27 years experience working in landscaping and civil engineering, UltraScape's latest RIBA CPD offering will highlight how permeable paving can provide a safe and environmentally-friendly alternative to traditional installations.
The Environmental Benefits of Installing Permeable Paving covers sustainable architecture and design, construction and technology core curriculum subjects as well as a number of interesting learning objectives, including:
A deep understanding of the flooding crisis
The need for permeable paving constructions
How they benefit and have a positive effect
Construction of the permeable paving installation and materials used
Wider environmental scheme considerations
Designed for architects, specifiers, landscapers, garden designers, builders and anyone else working in, or with paving constructions, this fantastic one hour core curriculum CPD can be hosted on-site at your premises or at UltraScape's world-class manufacturing facilities in Tamworth.
If you prefer online learning, all of UltraScape's RIBA approved CPDs are also available on the Instarmac Training Academy. To book your CPD webinar, please visit instarmactrainingacademy.co.uk.
To book your CPD, please contact UltraScape's team of permeable paving experts by calling +44 (0) 1827 254402 or emailing ultrascape@instarmac.co.uk.
You can find out more about UltraScape's range of environmental and permeable paving installation materials by visiting ultrascape.co.uk