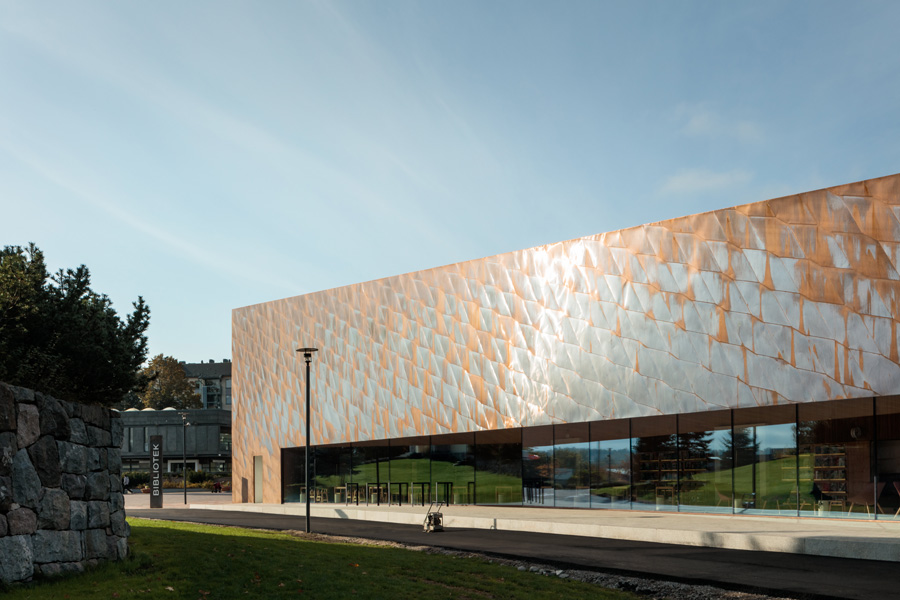 Nordic Brown Light pre-oxidised copper cladding, in the form of large shingles and vertical fins structuring glazing, creates a strong civic identity for the revitalised library in Kirkkonummi, Finland.
The project is a sustainable, adaptive reuse of the original 1980s concrete library building, utilising its embodied carbon. Architects JKMM have remodelled it and doubled its size, introducing new spaces for community uses such as toddler groups, youth clubs, exhibitions, events and performances.
As JKMM founding partner Teemu Kurkela explained: 'The library typology in Finland has changed. They are no longer solely about books but also getting together to share knowledge and experiences through multiple channels. They are not unlike community halls, which is why Finns today refer to libraries as public living rooms.'
Externally, the new library is clad in Nordic Brown Light pre-oxidised copper enwrapping the building and giving it a unity and strong presence as a civic landmark. Teemu Kurkela said: 'The neighbouring medieval church has a distinctive green copper roof and we created a dialogue between the old and the new. Copper is, of course, a material befitting public buildings and has a particular tactile quality with a unique sense of warmth. It is an inherently timeless material that ages beautifully and we expect the library to look even better in 50 years.'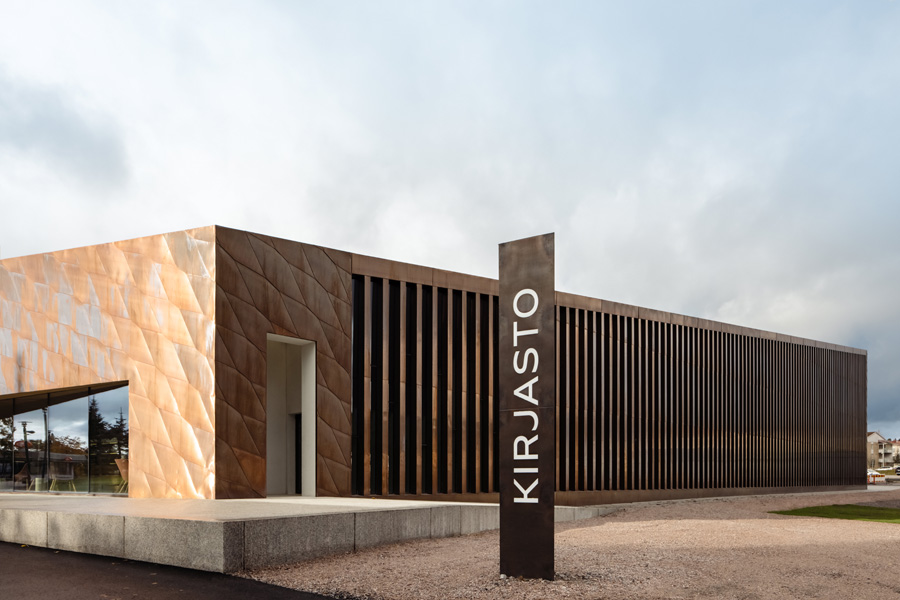 Nordic Brown provides the same oxidised brown surface that otherwise develops over time in the environment. The thickness of the oxide layer determines the colour of the surface finish, with darker or lighter (Nordic Brown Light) shades of brown. At Kirkkonummi, Nordic Brown Light copper is used in several architectural forms – unified by their materiality – notably, distinctive shingles generating diagonal wave-like patterns.
Teemu Kurkela added: 'The copper shingles are at the same time functional, modern and timeless. Previously, we used similar Nordic Brown Light shingles to clad our extension to Alvar Aalto's landmark Seinäjoki Library. But at Kirkkonummi, we used slightly larger shingles to make the pattern stronger, and arranged them at a more dynamic angle'.
For more information visit: www.nordiccopper.com or email: g.bell@aurubis.com