Lockout/Tagout within Construction
At construction sites, an effective lockout tagout programme should be in place to help prevent accidents or injury occurring when performing maintenance, repairs or cleaning on machinery and equipment.
Construction sites by their nature are areas of heightened risk, and lockout tagout is just one of several health and safety procedures that must be in place on these sites. Here, Reece Safety will discuss the lockout tagout procedure and how it should be effectively carried out.
Controlling electrical energy
The main concern on construction sites is the control of electrical energy. Typically, power generators are used at the beginning of a project, followed by temporary electrical power until the switch over to main power at the end of a project.
A potential hazard which can occur during the project is when both the main electrical power and the residual power (e.g. for emergency lighting) are live. Both sources of electrical power need to be locked out, tagged out and tested before performing any equipment servicing or maintenance work. This will ensure that the machine is safe to be serviced without risk of restarting or any residual energy causing injury. Additionally, generators must be tagged out if not in use or in need of repair, not doing this can lead to a serious accident if the generator is energised.
The below steps outline an effective lockout tagout programme for shutting down equipment safely and ensuring accidental re-energisation does not occur.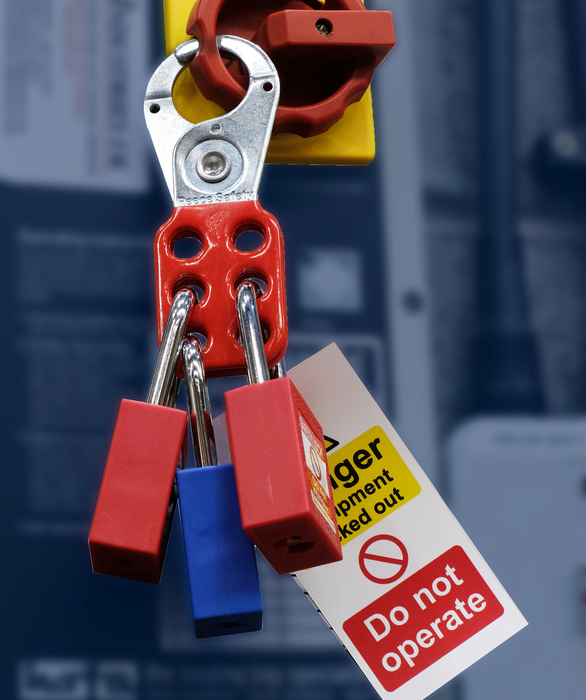 Detail procedures for equipment
Shut down the equipment properly
Equipment isolation
Apply lockout devices
Energy control
Verify the lockout (tryout)
Conduct required work
Reactivate
Ensure that you have the correct procedures in place for shutting down and restarting the equipment/machinery safely. Prepare the equipment for shutdown and highlight any potential hazards which may occur.
Explain and write down the shutdown instructions in detail to reduce the risk of damage to equipment and keep everyone safe. Make sure the shutdown instructions are in the correct sequence and are clearly written for other workers to see. Adhering to manufacturers shutdown instructions will ensure the equipment is safely shut off.
Ensure that equipment isolations points are identified, labelled and disconnected from all primary and secondary power sources. Be sure to isolate all energy sources including water, steam, electricity and gas.
Apply lockout devices to all energy isolation devices and make sure they are tagged according to your company's safe working procedures. Use the appropriate lockout device along with a tagout device. Lockout tagout equipment from Reece Safety can be used to securely lockout equipment.
Inspect the system thoroughly to ensure all moving parts have stopped and take steps to guard against residual energy.
Attempt to start the equipment to verify that the lockout has been successful. Inspect the system to ensure it does not re-start. If the lockout has been successful, return all switches to their off positions.
At this stage you can complete the required maintenance or cleaning work on the equipment/machinery safely. Ensure to stay alert to any potential hazards or areas of equipment which could re-start.
Once the work has been complete the final stage of lockout tagout can take place, whereby the equipment is restarted.Only the responsible person who applied the lockout device in the first instance can remove it, to ensure safety and accidental re-energisation does not occur.
By utilising the correct processes for lockout/tagout it can be ensured that work on a construction site can be carried out effectively and safely. It is important that all employees are aware when lockout tagout procedures are taking place, and that correct high level training is provided to ensure safety.