Guthrie Douglas, the innovator in blind systems, has used its technical expertise to produce an exceptional solar shading solution for the Kong Bar in Paris.

This stunning rooftop terrace bar and restaurant required solar protection that would keep its diners comfortable and enable them to enjoy the views of the River Seine and the Pont Neuf Bridge.

Guthrie Douglas, whose external blinds are used in locations with challenging climates such as the Middle East and northern Scandinavia, designed and manufactured 18 bespoke external blinds for the 100 sq m curved glass roof.

The Guthrie Douglas TESSTM system was selected for its strength, versatility and wind resistance and this was combined with Serge Ferrari's Soltis fabric, providing the optimum balance of transparency and heat reflection. The system dramatically cut solar heat gain and glare, significantly reducing the need for air conditioning. While it has long been known that glass buildings can help to reduce heating costs, thanks to the abundance of natural sunlight, there remain concerns about interior spaces overheating.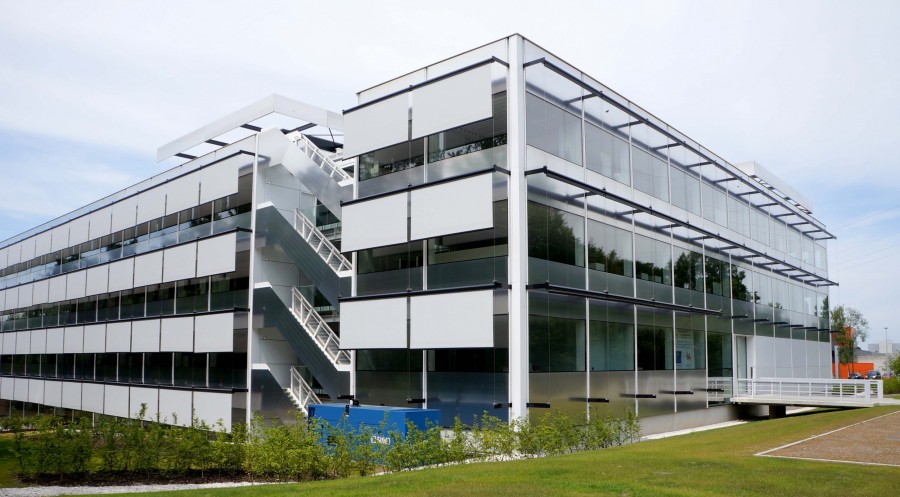 It's why architects have to think carefully about how to combine the aesthetic beauty of a building with an energy efficient solution. Andrew Kitching, of the Guthrie Douglas Group Ltd, said: "External fabric blinds can reduce the need for air conditioning by more than 70% and reduce heat gain to almost zero, absorbing and reflecting the sun's energy before it even touches the glass.

"Recent research at the South Bank University demonstrated reductions in internal air temperature by as much as 18C using mid-range fabric blinds on a building in London."

External blinds also bring aesthetic and other practical benefits, removing the need for internal clutter of cassettes or rollers around windows, and they can make a significant difference to insulation values in the winter. They can be integrated within the curtain wall or façade structure, which creates a clean look and helps to reduce the amount of fade damage to floors and furniture inside the building that has been caused by solar heat and UV rays. Guthrie Douglas's exterior blind systems are manufactured with a strong tension mechanism that holds fabric tight even in extreme temperatures and strong winds. They also meet the stringent tests set out in the European Norms and are CE marked accordingly.

To find out more, visit: https://www.guthriedouglas.com