Hueck UK has expanded its market leading portfolio with the addition of four new premium products (Volato SLS 075, Lambda WS 075 FC, Lambda SA (silent air) and Trigon GSP).
Hueck is one of Europe's largest manufacturers and suppliers of aluminium window, door and façade solutions, specialising in both standard systems as well as bespoke applications.
The company offers a wide choice of profiles, all of which are designed to integrate with each other.
Adding to its existing suite of sliding systems, Hueck has launched Volato SLS 075 – aimed at the premium entrance door market. The system is available in a range of designs to offer creative freedom in architectural projects and has a slim profile for enhanced aesthetics.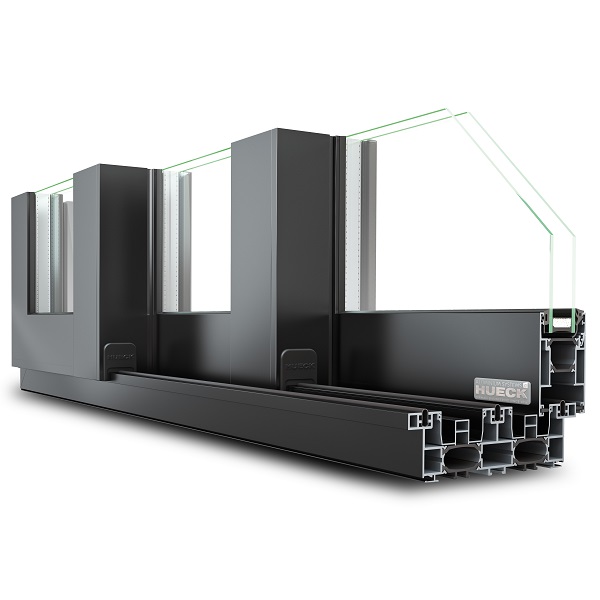 Hueck has also expanded its popular Lambda series with Lambda WS 075 FC and Lambda SA (silent air).
Lambda WS 075 FC combines the advantages of window construction with the appearance of a slender façade design; and is a cost-effective alternative to traditional curtain walling.
Lambda SA is a revolutionary soundproofing system. Thanks to an ingenious design, Lambda SA can reduce noise pollution by up to 39 dB even when the window sash is open in the tilted position.
Completing its new range is Trigon GSP, a glass-sandwich façade system. Opaque glass-sandwich panels and concealed mounting offers seamless glass looks without visible structural elements.
The glass can then be printed with colours, images and lettering, making complex office and store facades easily achieved.
Leon Friend, Director at Hueck, comments on the new additions: "Through providing architects with cutting-edge systems, we want to push the boundaries of what can be achieved in the built environment.
"Our latest additions are designed to solve building stresses that are occurring now as well as in the future – combining high-performance and sleek design, with the finishing touches being our exclusive range of quality, modern hardware."