A residential property in London which recently added an extension to house a swimming pool and changing rooms has made its roof space more appealing by creating a lavender and mixed herb green roof.
The project at Cannon Hill was designed and installed by Wild About Roofs, who specialise in supplying and installing an innovative range of herb and wildflower roofs.
They commissioned Boningale GreenSky to provide a variety of lavender, rosemary and thyme plants for the new pool house's flat roof. Unlike many commercial wildflower roofs, these larger plants were supplied as small pots to provide instant impact for a highly visible site.
The end result is stunning and provides the home owners with a visually appealing outlook, as the pool house is overlooked by the main house. It also makes a positive impact on local biodiversity because for years to come, as the green roof flourishes it will provide a valuable food source for pollinators.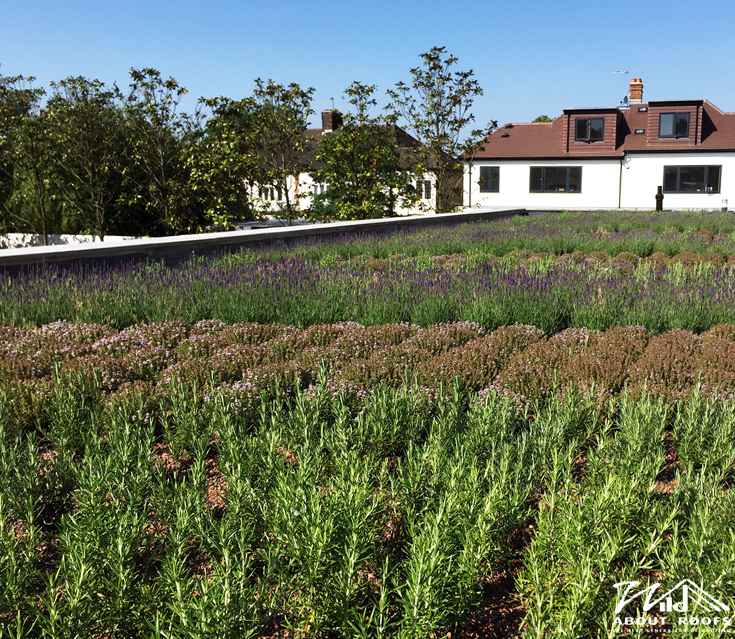 Maggie Fennell, Head of Boningale GreenSky, said; "Green or living roofs are becoming more and more popular in domestic residential settings, especially in large towns and cities because of the inherent benefits they provide. And just like the example here at Cannon Hill, they also make the landscape a lot prettier, while being good for the environment. The mix of herbs and lavender specified on this project has provided a truly stunning and striking domestic green roof design."
Boningale GreenSky also helped with the supply of the substrate, making sure it had the correct nutrition level and water holding capacity for the plants to thrive in the long term.
Maggie explains: "When using larger herbs like Rosemary and Lavender, it is particularly important they have a full 150mm depth substrate that will anchor their fuller structure and support their roots. With the correct support and careful installation, green roofs can also facilitate the growth of drought-tolerant Mediterranean herbs that need very sharp drainage."
John Ward, Co-founder and Director at Wild About Roofs said: "To install a Green Roof it is fundamental for us to have the right soil and plants. Every project has different needs so together with Boningale GreenSky and the client, we found the best solution for Cannon Hill. The end result is stunning and full of benefits for the owner and also for the environment and local community."
Boningale GreenSky is the award-winning green roof division of Albrighton's Boningale Nurseries, and supplies a unique range of SkyPlugs and SkySuperstrate. Backed by academic research and development by green roof technology experts at the University of Sheffield's Green Roof Centre, all of GreenSky's products have been specifically engineered for green roofs.