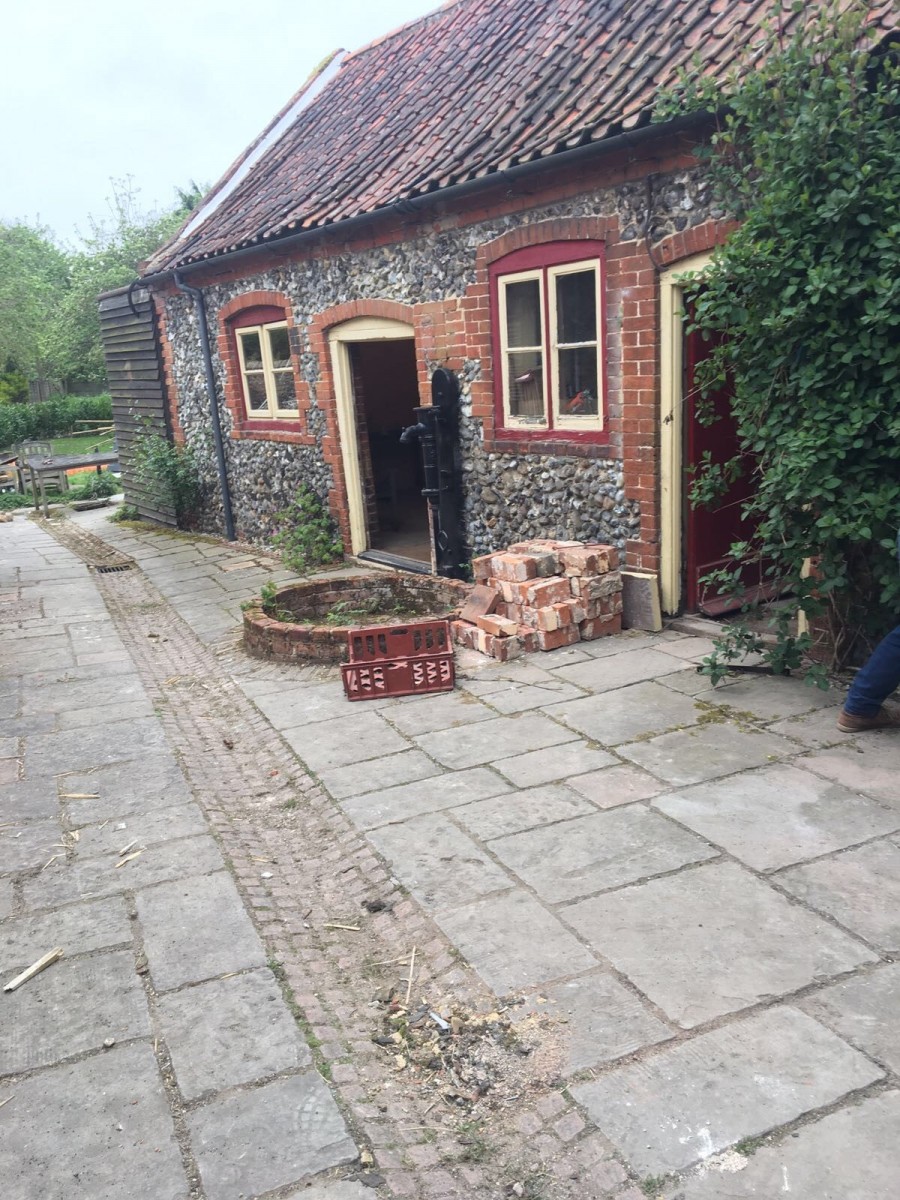 Sika supplied the Pre-bagged waterproof solution to facilitate the refurbishment of an 18th century pub cellar and protect its 300-year-old walls and floors against potential damage caused by water ingress.
The Three Horseshoes Pub in Wells-next-the-Sea, Norfolk dates back to 1720, with its simple, gas-lit rooms indicating little has changed since the early 20th century. In March 2017, the pub's original beer cellar was found to be leaking water, leading to contractors, Renderseal, being asked to carry-out repairs as part of an internal refurbishment of the entire pub.
An initial survey of the building revealed a number of walls were constructed of brickwork and flint. To reinforce these areas and eliminate the threat of water ingress, a course of Gunite concrete was spray-applied to the walls. With these strengthened, Sika®-1 Pre-Bagged Structural Waterproofing System, a multi-layer render and waterproofing solution, was applied.
The system comprises watertight renders and a screed produced using Sika®-1 Waterproofing Liquid, and Sika®-1 Pre-Batched Mortars for optimum application performance and durability. The pre-bagged system was applied to the pub's walls – following the contours with a 300mm lap over the floor – followed by a 30mm layer of Sika's pre-bagged screed.
For the flooring, the existing slab was found to be in poor condition and therefore required excavation. An inspection revealed the foundations were in a suitable state to lay a new slab in a slightly lower level in order to add valuable height to the cellar. Once the slab had sufficiently cured, Sikadur®-Combiflex®, a high performance, waterproof joint-sealing system was applied to wall and floor junctions and other cracks.
When applied, the system allows irregular and high movement in more than one direction, whilst maintaining a high quality seal.
Terry Blackabee, Managing Director at Renderseal, said: "The Sika waterproof system that was specified by our Surveyor, Fred Warne absolutely the correct solution for this project. It was simple to apply and made easy work of a potentially challenging application. Its watertight properties are second-to-none. Upon completion of the works, our 10-year insurance-backed guarantee was issued to the client."
The installation of Sika's Pre-bagged waterproof system was completed to the agreed timeframe and client's complete satisfaction, enabling the fully-refurbished pub to reopen in time for the busy summer season. Thanks to Sika, this historical pub's cellar has been safeguarded against the perils of water ingress to ensure alcohol is the only liquid flowing freely at this popular establishment.