The prestigious new Banbridge Community Treatment & Care Centre (CT&CC) in County Down, Northern Ireland, has an effective long-term water-proofing solution, after 2,500m2 of Alumasc's Hydrotech waterproofing systems, covered by Intensive Alumasc Blackdown green roof and Derbigum, was installed on the roofs, balconies and terraces.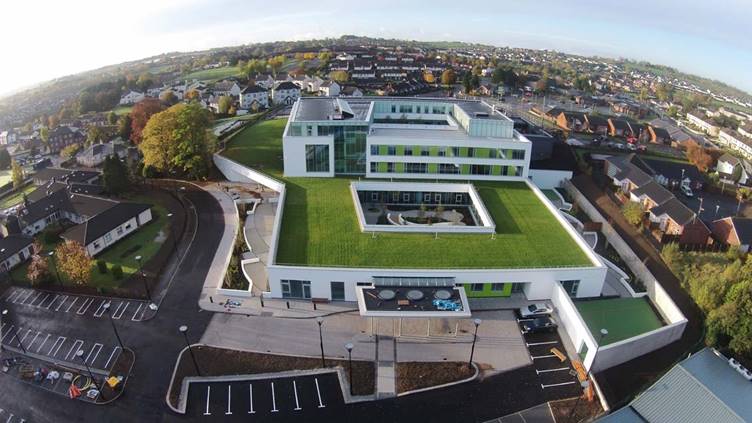 Run by the Southern Health & Social Care Trust, Banbridge CT&CC in County Down, Northern Ireland, is part of the new £16million Banbridge Health & Care Centre, and combines a range of health services: from adult day care and community outpatient departments, to therapy services for children, young people and mental health patients.
Approved local Alumasc installer Jameson Roofing Services was appointed to install 1,000m2 of Alumasc Derbigum, with an extended warranty of 40 years, and 1,500m2 of Alumasc Hydrotech waterproofing, which has an extended warranty of 50 years.
After the concrete deck had been primed with bitumen, a layer of Euroroof Mastergold vapour barrier was applied and covered with Euroroof PU Insulation adhesive. 120mm Alumasc BGT Rigid Polyisocyanurate Insulation was then laid, to achieve a target u-value of an average 0.20W/m2K, before Mastergold underlay and finally the Derbigum Cap Sheet.
Jameson Roofing then applied the Hydrotech Hot Melt waterproofing system, which comprised a Hydrotech MM6125 membrane incorporating a Hydrogard 40 protection sheet, onto which an intensive Alumasc Blackdown Green Roof was installed.